Kennel in Van Nuys
Greetings from Paw Haven, a sanctuary of premium care and comfort for your canine companion. Experience unparalleled dog care and comfort at our Van Nuys kennel! Our Van Nuys establishment excels in delivering superior dog daycare provisions, ensuring your pawed pals are showered with the right blend of attention, activity, and relaxation that they rightfully deserve
The Benefits of Choosing Our Kennel
Looking for the perfect place for your pup to stay as a pet parent can be a daunting task, but at Paw Haven, nestled in Van Nuys, we facilitate a soothing yet engaging setting for dogs, regardless of their breed or size. Unlike leaving your dog alone at home, our kennel in Van Nuys offers constant watch, physical activities, and a chance to socialize, ensuring your pet's emotional and physical needs are met above and beyond. At Paw Haven, your canine will be showered with affection, attention, and care.
Why Owners Choose Us
If you're seeking local dog kennels or dog boarding near you, you might worry about your pets spending their days confined in a stuffy cage. Lucky for you, Paw Haven's Kennel in Van Nuys provides an alternate experience. Your four-legged friends can freely explore our cage-free play zones, having fun while fully supervised. 
We also offer a climate-controlled facility for your pet's comfort throughout the year. Safety features in our play zones include epoxy and beading for gentle traction that's easier on your pet's joints and cushions those delicate paws. Plus, our top-tier air filtration system equals the standards you'd find in a human hospital, ensuring the highest quality air for your pet.
During buissness hours, we offer 24-hour live webcams so you can see exactly what your playful pup is up to during their stay
To further enhance the ambiance, we play soothing music throughout our facility, creating a relaxing atmosphere your pet will love. You can also monitor your pet through our live webcams during business hours. Whether you need reliable dog boarding for a long vacation or a day care service in Van Nuys, we're here to create a tail-wagging experience. Contact us today to book a spot at Paw Haven, a true paradise for paws.
Select The Package That's Right For You
For real-time insights into pet's day-to-day adventures,, our live webcams are available for you during our working hours. Reach out to us to learn more about our kennel in Van Nuys experience.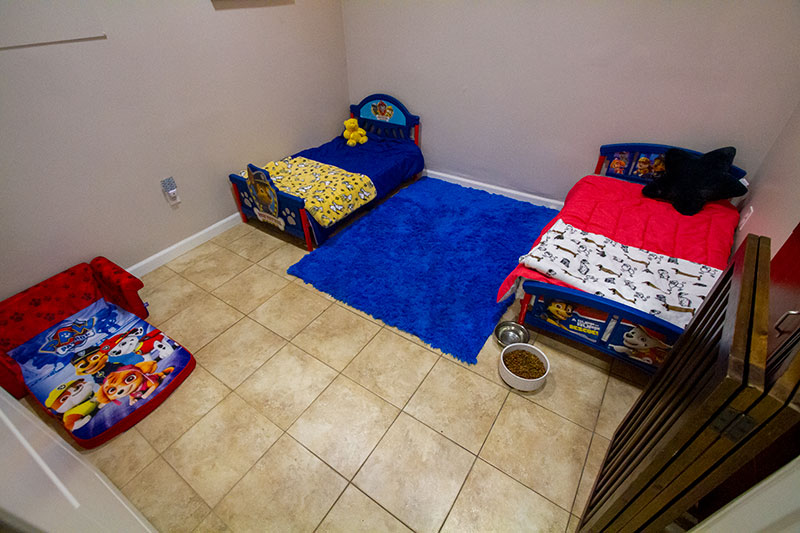 The Dog Slumber Party,
$70/Per Night. A large suite with a social experience for your pup!
The Private Suite
$80/Per Night. A comfortable, clean, 8' by 3.5' place for your dog to rest.
Private Penthouse
$105/Per Night. These fully decorated rooms come fitted with toddler beds and toddler couches. The rooms vary in size, ranging from 9' x 9' to 13' x 7'
Holidays: Additional $10/per night
Extended day discount (Excludes Holiday Weekends):
5 nights, 5% off
10 nights, 10% off
20 nights, 20% off
Each additional dog $10 off total, per night (Excludes Holiday Weekends)
*2 dogs in shared private room, take $10 off per night.
*3 dogs in shared private room, take $20 off per night.
*Multiple dog and long term stay discounts cannot be combined. The larger of the two discounts shall be applied.
Check In Times
Check-in time is 12pm.  Early check-in will be an additional daycare charge-either hourly or half day charge depending on how early.
Check-out time is 12pm.  Late check out will be an hourly, half day or full day daycare charge depending on checkout time.
Latest checkout is 6pm daily.
Enhance Their Stay With Add-Ons
Premium Spa & Grooming
Allow us to pamper your pooch, plus add on an exit bath so they leave their stay feeling fresh.
Training Assistance
Does your canine companion require some coaching? We're here to lend a helping paw!
Shuttle Pick-Up & Drop-Off
Is your doggo in need of transportation? We provide shuttle services around the Tarzana Area.
Tail-Wagging Treats
Our delicous owner-approved snacks will be sure to put a wag in those tails!
Puppy Report Cards
We provide detailed notes about your pup's day, ensuring you're kept in-the-loop with of all the activities your furry friend is engaged in.
Quality Playtime
We provide personal interaction periods between your dog and our staff, aimed at helping your pet adjust to their new environment at Paw Haven.
Let's Take a Stroll
A fit canine is a cheerful one! We'll ensure your furry companion receives the necessary physical activity for their well-being.
Birthday Celebrations
Is someone specail approaching a new milestine? Let's join paws and celebrate together!
Desserts Designed For Dogs
Our scrumptious and wholesome treats, safe for canine consumption, make an ideal indulgence for your furry pal from time to time!
Administering Medication Services
You can have peace of mind knowing that if your fluffy friend needs medication, we'll be there to provide it appropriately, guaranteeing your pet's well-being during their stay with us.
Promoting Relaxation
We ensure your buddy transitions smoothly into a relaxing nighttime atmosphere with our in-premises white noise devices and soothing abmbiance at our facility 
In search of dog kennels or dog daycare facilities in the Van Nuys vicinity? Your search ends with us! We're prepared and eager to assist. For more information or to arrange a visit, please feel free to reach out. Our ultimate goal is to craft the perfect sanctuary for your furbaby!
A True Haven For Dogs
Seperation from your pet can be tough, butr you can be confident that they're in great hands at our Kennel in Van Nuys. After booking with us, we'll collaborate with you to create the most ideal arrangement for your dog, enabling you to savor your holiday or concentrate on your business trip without worries.
What We Want Our Owners To Know:
We present an assortment of overnight boarding packages for you to select what's best for your dog.
To guarantee a peaceful and tension-free overnight stay for your dog, we strongly suggest visit to our facility prior to the stay. A complete day of daycare can significantly help your pet adjust to our surroundings, thus enhancing the quality of their overnight visit.
We're equipped with beds and blankets, so theres no need to carry any playthings or personal belongings from home. However, in case your dog needs any medication, we request that you inform us ahead of time, since we do provide services for administering medication.
Choosing our overnight care option? We recommend including an exit bath for your four-legged friend, so they can meet you again while exuding freshness and cleanliness!
To maintain the health and pet throughout their stay, kindly bring a sufficient amount of their regular dog food for their visit's duration. Sudden changes in diet can distress your dog's digestive system.
Should you stay fall around holidays, we advise reaching out to us ahead of time to reserve your place, given these dates are usually booked quickly. Feel free to connect with us to ensure your pup has a guaranteed spot!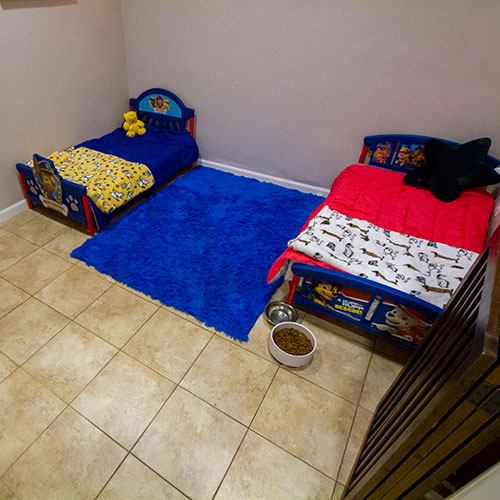 Boarding
From our premier facility to our experienced and highly-trained staff, we work hard to ensure that your dog's overnight stay is excellent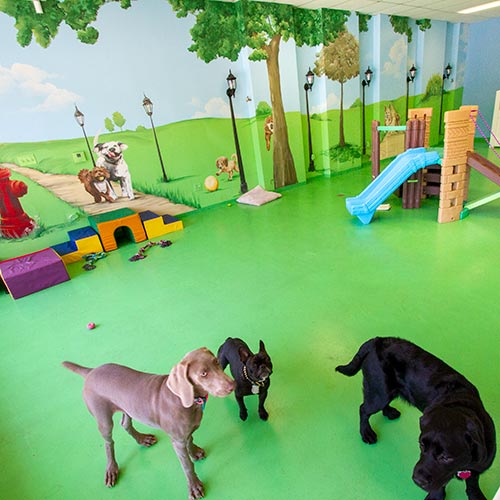 Daycare
Instead of worrying about where their owners are, your dog can enjoy playing, getting cuddles, and lots of attention from our expert dog daycare team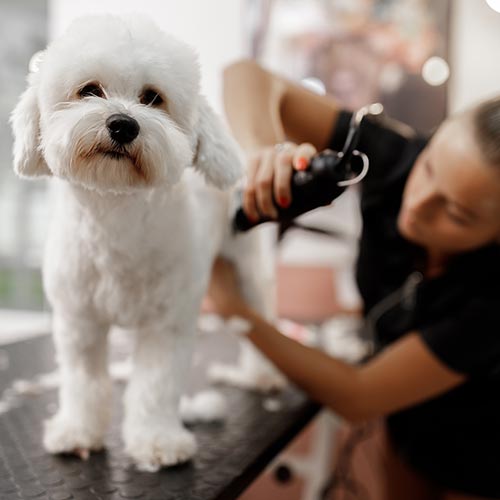 Grooming
We use only the finest dog-safe all-natural shampoos, dyes, and conditioners here at Paw Haven
Hear From Our Pet Parents
Get in Touch
(747) 250-9354