Paw Haven Hotel
Have you been searching for terms like "dog kennels near me" and aren't sure where to start? Look no further than Paw Haven! Our premier doggy daycare, spa, and hotel will provide you and your furry friend with an exceptional dog boarding or daycare experience.
From our premier facility accommodations to our experienced and highly-trained staff, we work hard to ensure that everything about your dog's stay is excellent! Choose from an array of boarding packages and add-ons to ensure that your dog enjoys every moment here with us.
The Best Dog Boarding
When owners search for "Boarding Kennels Near Me", "Kennels Near Me", or "Dog Hotel Near Me", they often envision facilities where dogs are primarily kept in kennels all day. Here at Paw Haven, your dog can roam free and have fun in a safe, supervised environment. No cages, nothing stuffy, just skillful care, affection, and a safe place to have fun!
Our team is completely dedicated to ensuring your dog has the ultimate experience at Paw Haven. Our expertly trained caregivers are dog lovers who enjoy what they do. They stay on site 24/7 to ensure that everything is safe and happy for the dogs here.
Our facility is also climate-controlled year-round for comfortable temperatures. Additionally, all of our play area floors are fitted with epoxy & beading for traction, and epoxy is soft on the paws vs concrete, providing cushioning for your dog's joints. We also have one of the finest air filtration systems around! This high-quality filter system is of the same caliber you would find in a human hospital.
Furthermore, soothing music plays in our facility to create a relaxed and ambient atmosphere. Plus, live webcams are available during business hours. So, you can tune in and see what your pup is up to!
Three Dog Boarding Packages to Choose From
We offer three types of boarding here. Choose the package that meets your needs best! Call to learn more or book your dog's next stay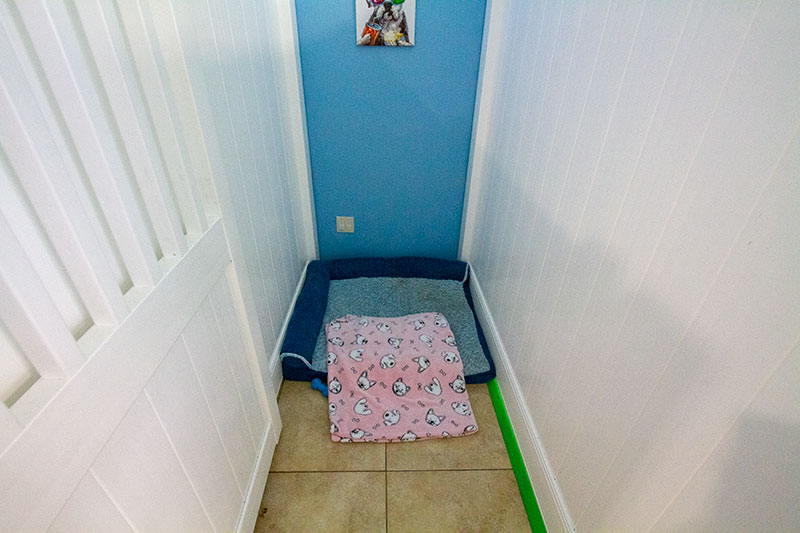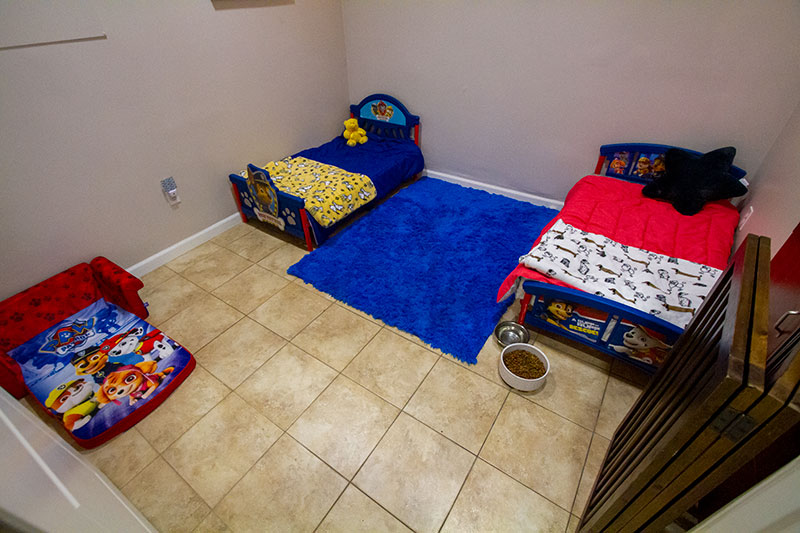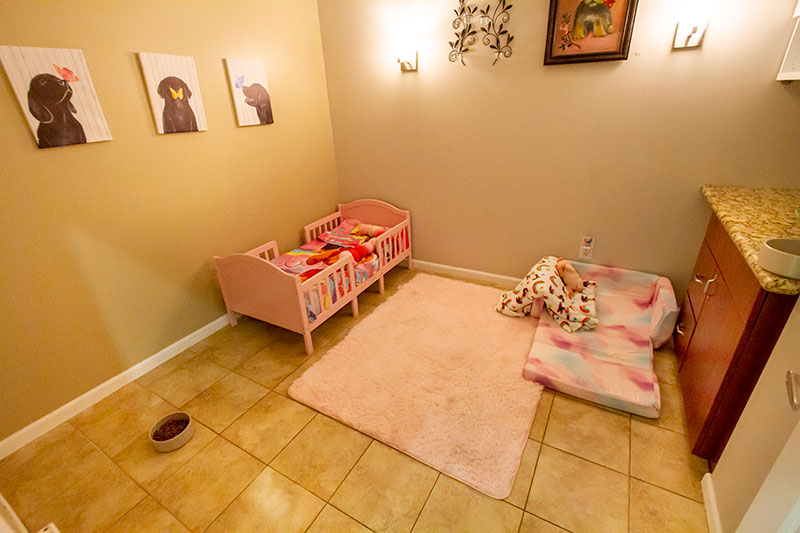 The Dog Slumber Party,
$70/Per Night. A large suite with a social experience for your pup!
The Private Suite
$80/Per Night. A comfortable, clean, 8' by 3.5' place for your dog to rest.
Private Penthouse
$105/Per Night. These fully decorated rooms come fitted with toddler beds and toddler couches. The rooms vary in size, ranging from 9' x 9' to 13' x 7'
Holidays: Additional $10/per night
Extended day discount (Excludes Holiday Weekends):
5 nights, 5% off
10 nights, 10% off
20 nights, 20% off
Each additional dog $10 off total, per night (Excludes Holiday Weekends)
*2 dogs in shared private room, take $10 off per night.
*3 dogs in shared private room, take $20 off per night.
*Multiple dog and long term stay discounts cannot be combined. The larger of the two discounts shall be applied.
Check In Times
Check-in time is 12pm.  Early check-in will be an additional daycare charge-either hourly or half day charge depending on how early.
Check-out time is 12pm.  Late check out will be an hourly, half day or full day daycare charge depending on checkout time.
Latest checkout is 6pm daily.
Grooming & Spa Services
When you pick up your pooch, they will have been groomed and pampered by our experienced team
Training
Need some doggie training? We can help!
Shuttle Services
we offer pick up and drop off of your dog
Treats
Who doesn't enjoy a tasty snack? Our owner-approved treats make your dog's stay that much better
Puppy Report Cards
Stay up to date with the details of your dog's stay with custom reports
Individual Playtime
One-on-one time is enriching and helps your dog get comfortable and feel safe
Dog Walks
Exercise helps keep your dog healthier and happier. Plus, it provides enrichment!
Birthday Parties
Is your pup celebrating a milestone? We've got you covered
Doggie Desserts
Everyone needs a special treat every now and again. Our dog-safe desserts are delicious and nutritious!
Medication Administration
If your dog is on medication, we will responsibly administer it as needed
White Noise Machines & Music for a Relaxing Bedtime Routine
Help your dog relax with a serene ambiance.
If you have been searching for a Dog Boarding or Dog Daycare  Near Me in the Sherman Oaks area, we are ready to assist you! To learn more or schedule a visit, we encourage you to contact us. We want to provide the ultimate haven for your fur baby!
Our Cage-Free Overnight Dog Boarding Facility is Fully Supervised
We understand how hard it is to be away from your fur baby. However, when you know that your dog is in competent hands and having a good time, you will be able to enjoy your vacation or focus on your work trip. After making a reservation with our dog hotel facility, we will help you set up the best possible accommodations for your dog.
What to Know About Paw Haven:
You can choose from many different boarding options.
We highly recommend visiting our facility before your dog's first overnight stay. A full day of daycare is a great way to help your dog get used to our facility for a less stressful overnight experience
Beds and blankets are provided here at Paw Haven. So, you don't need to bring any toys or personal items from your home. However, if your dog is on medication, please let us know. We offer medication administration services
If you choose a slumber care experience, we recommend adding on an exit bath for your dog. That way, when they greet you, they will be fresh and clean!
Be sure to bring enough of the dog food that your dog is currently eating for the duration of their stay at Paw Haven. After all, sudden dietary changes can upset your dog's stomach
We also encourage you to contact us in advance if you will be going away during a holiday. Holiday dates tend to book fast so please contact us in advance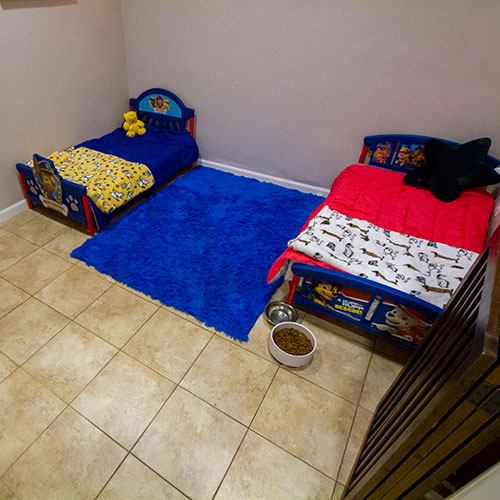 Boarding
From our premier facility to our experienced and highly-trained staff, we work hard to ensure that your dog's overnight stay is excellent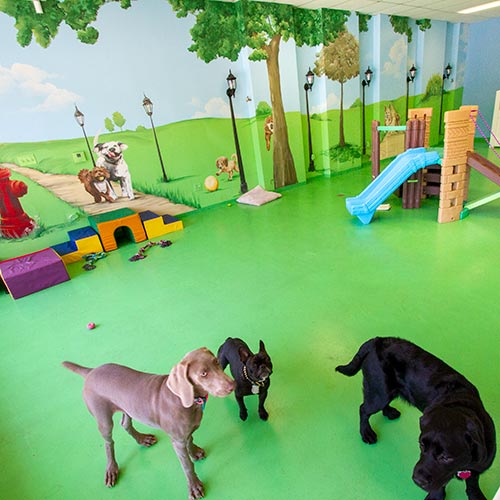 Daycare
Instead of worrying about where their owners are, your dog can enjoy playing, getting cuddles, and lots of attention from our expert dog daycare team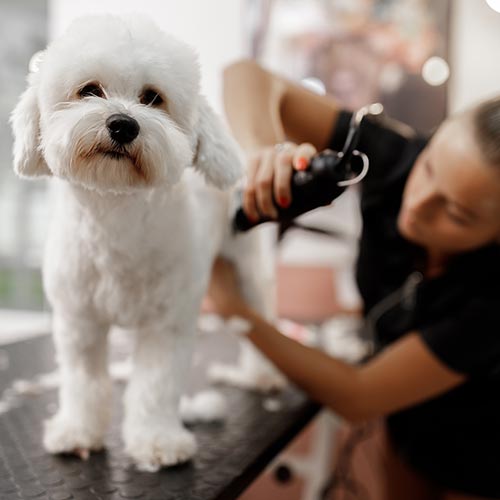 Grooming
We use only the finest dog-safe all-natural shampoos, dyes, and conditioners here at Paw Haven
Hear From Our Pet Parents
Get in Touch
(747) 250-9354