Kennel in Tarzana
At Paw Haven, we pride ourselves on being the premier dog kennel in Tarzana, offering a haven for your beloved pets to experience a truly unforgettable stay. We understand that your furry companions are not just pets but cherished members of your family, and we treat them as such during their time with us. Taking care of the Tarzana area, our sanctuary for canines ensures your faithful furry companions receive the finest treatment. Explore top-tier care at our dog kennel in Tarzana. We realize that your dog's joy and wellness are paramount to you, and we are committed to offering a secure and cozy atmosphere for them.
Give Them The Stay They Deserve
We take great pleasure in offering outstanding care and treatment. Our kennel in Tarzana puts the fun back in kennels, ensuring your beloved pets get the engagement and enrichment they undoubtedly deserve. In contrast to leaving your dogs unattended at home, our overnight kennel experience provides full supervision and a stay full of activities to keep your pooch engaged. At Paw Haven, we focus on spoiling your pup with affection, attentiveness, and committed care, thus providing you with peace of mind while you're away.
Paw Haven Changes the Kennel Game
When pet parents are scouting local boarding kennels or canine inns, it's typical for them to worry about their dogs spending time confined in cages. However, Paw Haven in Tarzana presents a refreshing option. Your dog can safely roam around our supervised play zones throughout our facility, bidding farewell to the boring and stuffy kennels of the past.
Our team, dedicated dog enthusiasts, is passionate about providing a memorable experience for your four-legged friend. As professionals in their field, they are on-site round the clock, assuring a secure and cheerful setting for every visitor. What's more, our facility maintains a cozy climate all year, ensuring your pet's comfort no matter the season.
In our recreation zones, we've laid out a special epoxy with beading to give your dog's joints some extra padding. This floor is much kinder to their paws than regular concrete. To add to that, our air filtration system is top-notch, similar to what you'd find in a top-tier hospital for humans.
Adding to the pleasant environment, we play calming tunes throughout our premises, promoting a relaxing atmosphere. Moreover, during working hours, our live webcams allow you to observe your pet and see what they're up to. Contact us today and discover why Paw Haven is indeed a sanctuary for dogs.
Select From 3 Unique Boarding Packages 
Stay in touch with your pet and view their daily activities via our live webcams that are operational during working hours. Get in touch with us today and treat your companion to a memorable adventure at our kennel in Tarzana.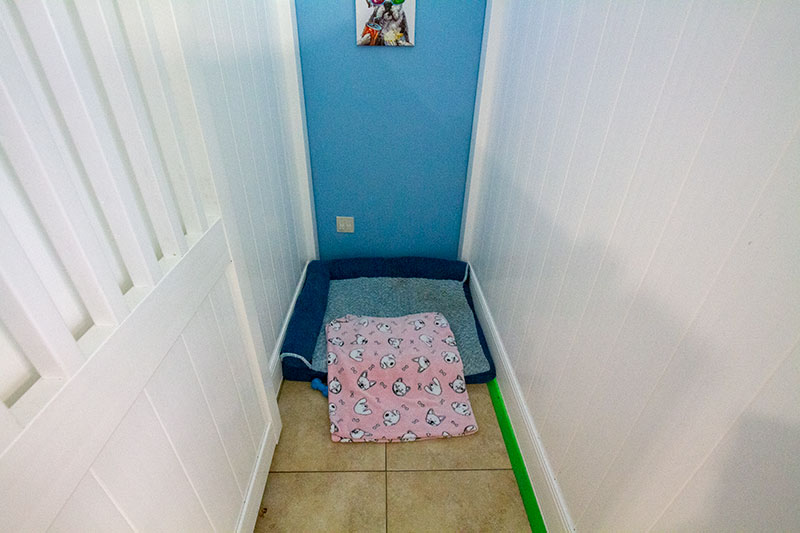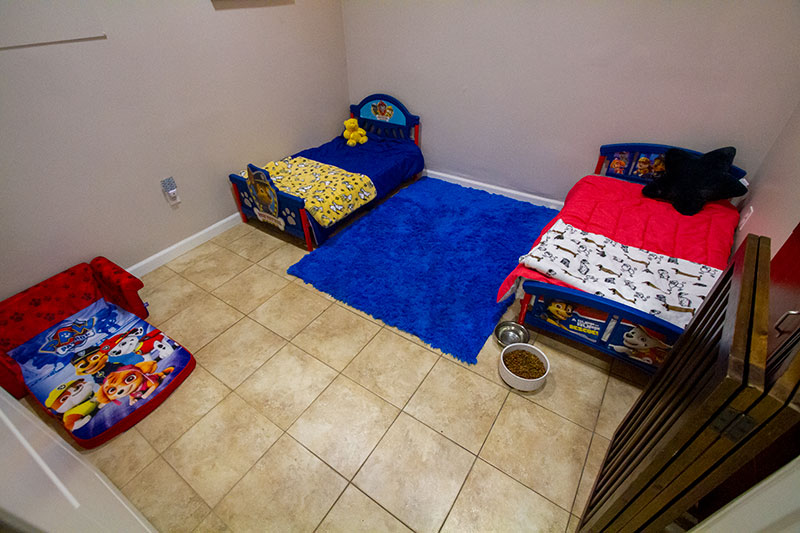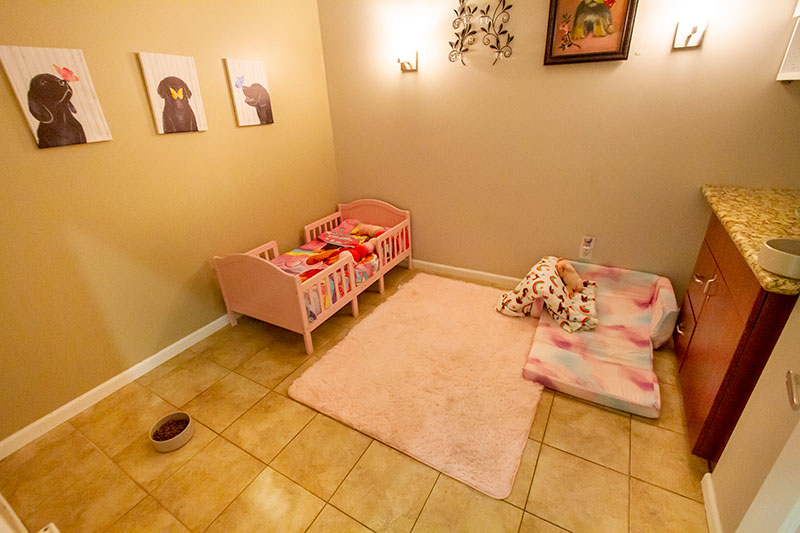 The Dog Slumber Party,
$70/Per Night. A large suite with a social experience for your pup!
The Private Suite
$80/Per Night. A comfortable, clean, 8' by 3.5' place for your dog to rest.
Private Penthouse
$105/Per Night. These fully decorated rooms come fitted with toddler beds and toddler couches. The rooms vary in size, ranging from 9' x 9' to 13' x 7'
Holidays: Additional $10/per night
Extended day discount (Excludes Holiday Weekends):
5 nights, 5% off
10 nights, 10% off
20 nights, 20% off
Each additional dog $10 off total, per night (Excludes Holiday Weekends)
*2 dogs in shared private room, take $10 off per night.
*3 dogs in shared private room, take $20 off per night.
*Multiple dog and long term stay discounts cannot be combined. The larger of the two discounts shall be applied.
Check In Times
Check-in time is 12pm.  Early check-in will be an additional daycare charge-either hourly or half day charge depending on how early.
Check-out time is 12pm.  Late check out will be an hourly, half day or full day daycare charge depending on checkout time.
Latest checkout is 6pm daily.
Level-Up Their Stay With Add-Ons
All-Inclusive Spa & Grooming
Get ready to be greeted by your fluffy friend, looking freshly spruced up and spoiled, when their stay comes to an end!
Train Hard, Play Hard
Should your pooch need some instruction, we're here to extend a supportive paw!
Doggie Shuttle
Require transport for your canine? Take advantage of our drop-off and pick-up services at our kennel in Tarzana.
Tail-wagging Treats
Our delicious doggie treats, endorsed by pet parents, get tails wagging with joy!
Puppy Report Cards
Keep up-to-date with all the activities your furry friend partakes in with our detailed report cards available for you.
One-On-One Play
To guarantee a seamless changeover and a smooth experience for your pet our kennel in Tarzana, we provide special one-on-one play sessions between our team members and your dog.
Active Enrichment
A joyful pooch calls for a joyful owner. Be certain, we make it our mission to ensure your four-legged buddy gets the physical activity they need to keep lively and satisfied.
It's A Puppy Party
Allow us to be your personal party planners! We want to celebrate your pup's upcoming milestone together.
Doggie Desserts
We all deserve a special treat every now and then, so why shouldn't this apply to man's best friend? 
Medication Administration Services
Rest assured that if your dog needs medication, we will diligently administer it as needed to maintain their health during their time at our facility.
Create the Perfect Atmoshphere
We aim to make your dog's nights peaceful. We use our in-house white noise machines and soft music to help them feel comfortable.
Looking for dog boarding or daycare services in the Tarzana region? Look no further! We're ready and waiting to help you. To find out more or to schedule a tour, please get in touch. We're here to provide the ideal haven for your cherished fluffy companion at our kennel in Tarzana.
Paw Haven? More Like Paw Heaven
We get it – being apart from your four-legged companion is no easy feat. However, they are in safe paws when you choose Paw Haven's kennel in Tarzana. Once you've booked, we'll work with you to set up the perfect arrangement for your pooch, so you can fully relax on your holiday or focus on your business trip without a single worry.
What Owners Should Expect:
We present you with a wide selection of boarding options to cater to your preferences and needs.
To guarantee a smooth and worry-free overnight stay for your dog, we strongly advise visiting our facility in advance. Allowing your bud to spend a full day at our daycare before their overnight stay helps them adapt to our surroundings, leading to a more pleasant experience for them.
At Paw Haven, we cater to your furbaby's necessities by providing snug beds and warm blankets, eliminating the need for extra belongings from home. Nonetheless, if your dog requires medication, kindly inform us beforehand, as we offer specialized services for administering medications.
Considering treating your furry companion to our overnight care? We strongly suggest opting for an exit bath, ensuring they can greet you upon your return feeling squeaky clean.
To maintain the well-being and contentment of your furry friend, be sure to bring plenty of their current dog food for the duration of their stay. Ensuring a consistent diet is crucial for preventing any potential stomach troubles.
Preparing for an upcoming holiday and need to make arrangements for your dog? We strongly advise reaching out to us in advance to secure your spot, as these dates tend to be in high demand. Don't hesitate to contact us and secure a reservation for your dog at our kennel in Tarzana!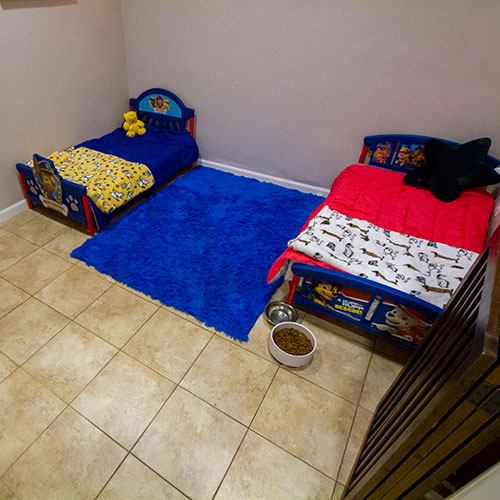 Boarding
From our premier facility to our experienced and highly-trained staff, we work hard to ensure that your dog's overnight stay is excellent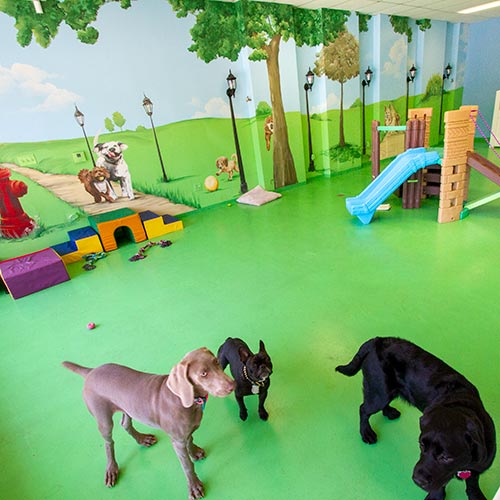 Daycare
Instead of worrying about where their owners are, your dog can enjoy playing, getting cuddles, and lots of attention from our expert dog daycare team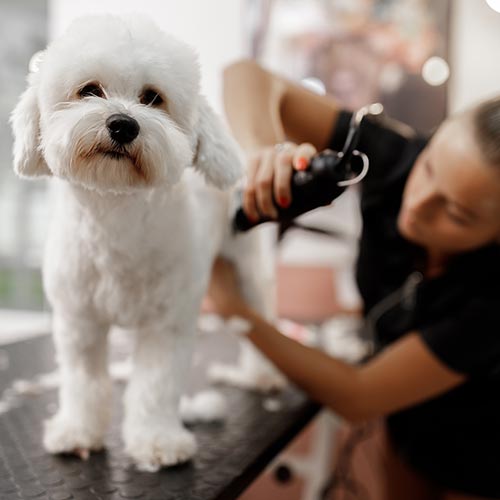 Grooming
We use only the finest dog-safe all-natural shampoos, dyes, and conditioners here at Paw Haven
Hear From Our Pet Parents
Get in Touch
(747) 250-9354