Kennel in Sherman Oaks
Our dog kennel in Sherman Oaks offers exceptional care for your beloved canine companions. We acknowledge the significance of crafting a welcoming sanctuary for your beloved pet. At our facility in Sherman Oaks, we wholeheartedly prioritize the welfare and joy of our furry companions. Our dedicated team of trained professionals is committed to creating a safe, comfortable, and enjoyable environment for your dog.
Elevating the Kennel Experience 
If you need a reliable place to find a "dog kennel in Sherman Oaks" and feel uncertain about where to start, look no more, because Paw Haven is here for you! Our establishment offers an unparalleled doggy retreat, spa, and lodging experience that is truly one of a kind, providing a haven for both you and your beloved furry companion.
We take immense pride in the services available at our facility and our team of dedicated professionals committed to ensuring a fantastic stay for your dog. Offering a wide array of boarding packages and additional services, we guarantee that every moment of your dog's time spent with us will be filled with fun. Trust us to provide the ultimate canine escape!
Why Paw Haven is Your Next Best Stay
Paw Haven is the go-to kennel for dog owners in the Sherman Oaks area who seek a safe and enjoyable environment for their furry friends. We offer a wide range of services, including boarding, daycare, and spa treatments, ensuring the best care for your dog.
At Paw Haven, your dog is in good paws. Our dedicated caregivers remain on-site 24/7, providing expert care to shower your pup with attention.
We believe in giving dogs the freedom to play and have fun, unlike other stuffy kennels. That's why our play areas are designed to accommodate dogs of all different sizes and temperaments, allowing them to roam freely while supervised.
Our facility is equipped with a climate-controlled environment for year-round comfort. Plus, our play area floors are equipped with rubber padding to protect paws and joints. With a top-notch air filtration system, equivalent to those found in human hospitals, we maintain a clean and healthy space.
Recognizing that every dog is unique, we offer a variety of boarding packages and add-ons to meet their individual needs. Additionally, we provide exit baths to ensure your dog leaves feeling fresh and clean when you choose our kennel in Sherman Oaks.
If you're looking for a kennel in Sherman Oaks that prioritizes your dog's well-being, Paw Haven is the answer. Contact us today to learn more and schedule a visit.
Stay connected with your pup through our live webcams available during business hours.
Select from 3 Unique Boarding Packages
Explore our three boarding packages catered to the needs of your fur baby. Contact us now to find out more and reserve your dog's stay today!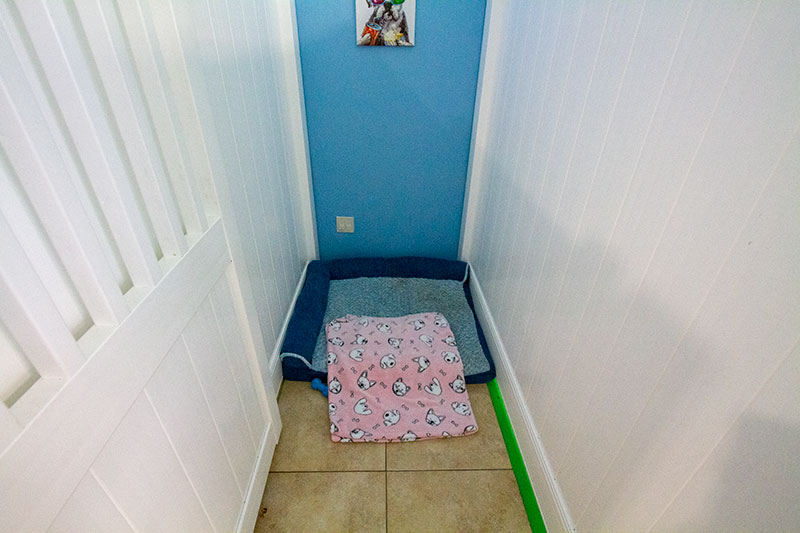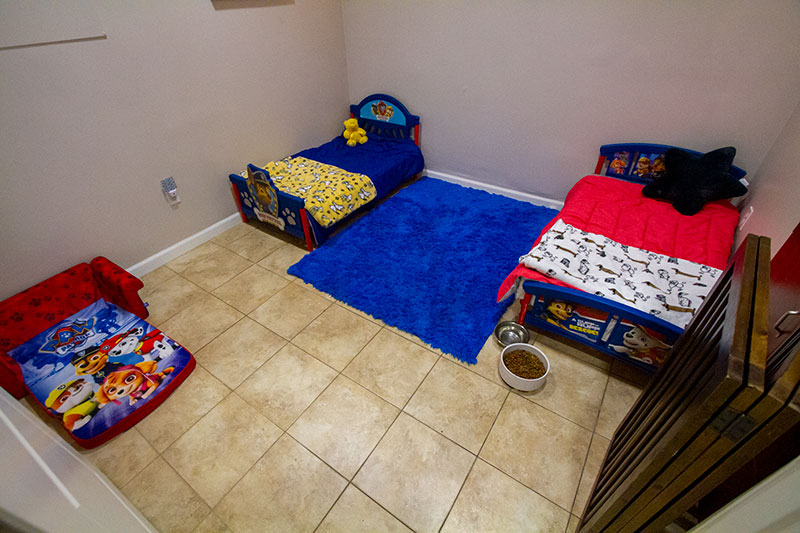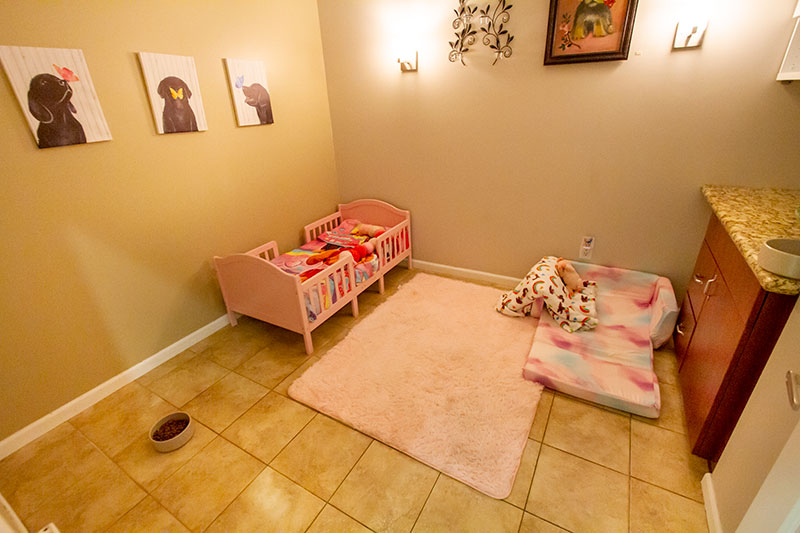 The Dog Slumber Party,
$70/Per Night. A large suite with a social experience for your pup!
The Private Suite
$80/Per Night. A comfortable, clean, 8' by 3.5' place for your dog to rest.
Private Penthouse
$105/Per Night. These fully decorated rooms come fitted with toddler beds and toddler couches. The rooms vary in size, ranging from 9' x 9' to 13' x 7'
Holidays: Additional $10/per night
Extended day discount (Excludes Holiday Weekends):
5 nights, 5% off
10 nights, 10% off
20 nights, 20% off
Each additional dog $10 off total, per night (Excludes Holiday Weekends)
*2 dogs in shared private room, take $10 off per night.
*3 dogs in shared private room, take $20 off per night.
*Multiple dog and long term stay discounts cannot be combined. The larger of the two discounts shall be applied.
Check In Times
Check-in time is 12pm.  Early check-in will be an additional daycare charge-either hourly or half day charge depending on how early.
Check-out time is 12pm.  Late check out will be an hourly, half day or full day daycare charge depending on checkout time.
Latest checkout is 6pm daily.
Exceptional Spa & Grooming
When it's time to reunite with your furry friend, rest assured that they will have been pampered
Training & Tricks
Let us lend a helping paw if your canine companion is in need of training or if you're eager to teach an old dog some new tricks.
Pick-up & Drop-off Shuttles
Our shuttle services are at your disposal if you require transportation for your dog to and from our facility
Did Someone Say Treats?
Treat your beloved furry companion to our owner-approved treats. Because let's be honest, who can resist a scrumptious snack?
Puppy Report Cards
Stay in the know with everything your pup is up too during their visit with our detailed report cards per your request!
Specialized One-On-One Playtime
Offering personalized, dedicated one-on-one time with your dog is not just enriching, but also plays a vital role in ensuring their comfort and security while in our care.
It's Time for a Walk
Engaging your dog in exercise regularly promotes their overall health and happiness, so we'll be sure to keep them stimulated.
Your Personal Party Planners
If your pal's special day is approaching, allow us to lend a paw!
Premium Doggie Desserts
Savor our delightful array of dog-safe desserts, crafted with a blend of delicious flavors and nutritious ingredients to treat man's best friend
Administration of Medication
You can have peace of mind knowing that we will responsibly and diligently administer any required medications for your dog.
The Ultimate Safe Space
Create a serene environment for your dog to unwind with the help of calming ambiance, soothing music, and our in-house white noise machines.
Searching for dog boarding or dog daycare services in Sherman Oaks? Your search ends here! Our devoted team is ready to assist you and provide top-notch care for your furry friend. Get in touch with us today to discover more about our services or to arrange a visit to our kennel in Sherman Oaks.
We Put the Fun Back In Kennels
We understand the challenges of being away from your pup. With the assurance that your dog is in excellent hands and having a wonderful time, you can truly relax during your vacation or focus on your work trip. Once you reserve a spot at our kennel in Sherman Oaks, we will closely collaborate with you to provide the best possible accommodations for your dog.
Discover More About Our Haven for Dogs:
We offer a diverse selection of boarding options for your convenience.
To make your dog's overnight experience smoother and less stressful, we suggest visiting our facility before their first stay. Opting for a full day of daycare is a great way to help your dog get used to our facility.
You can be confident that at Paw Haven, we offer snuggly blankets and toddler beds, so theirs no need to bring extra belongings from home. If your dog requires medication, please let us know, as we provide professional administration services if needed during their visit.
There's no better way to top off the daycare experience than with an exit bath. Those fur locks will be looking luscious when it comes time for pickup.
For the well-being of your dog, kindly remember to bring an ample supply of their current dog food. Sudden changes in diet can lead to an upset stomach. We want to make sure your dog has the best stay possible. 
Considering a holiday getaway? We highly recommend contacting us in advance to reserve your spot, as holiday dates tend to fill up fast. Reach out to us soon to secure a spot for your buddy!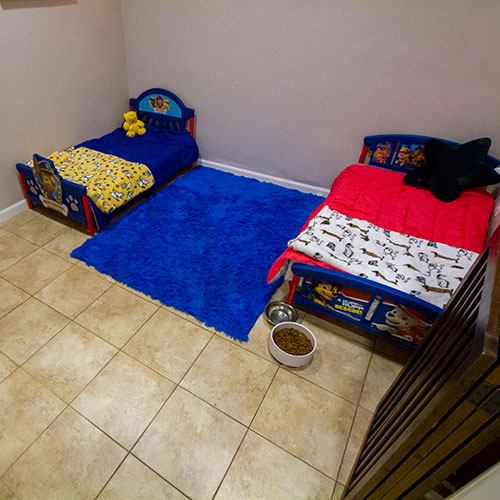 Boarding
From our premier facility to our experienced and highly-trained staff, we work hard to ensure that your dog's overnight stay is excellent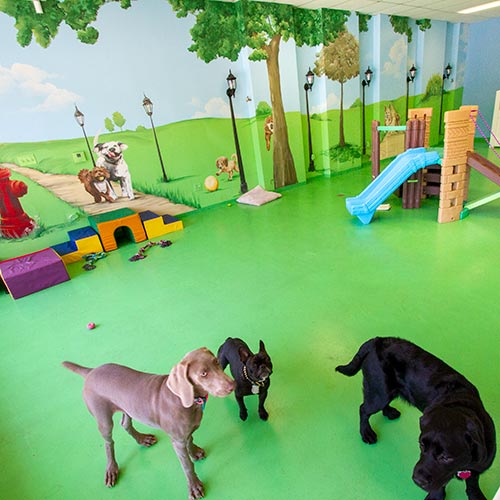 Daycare
Instead of worrying about where their owners are, your dog can enjoy playing, getting cuddles, and lots of attention from our expert dog daycare team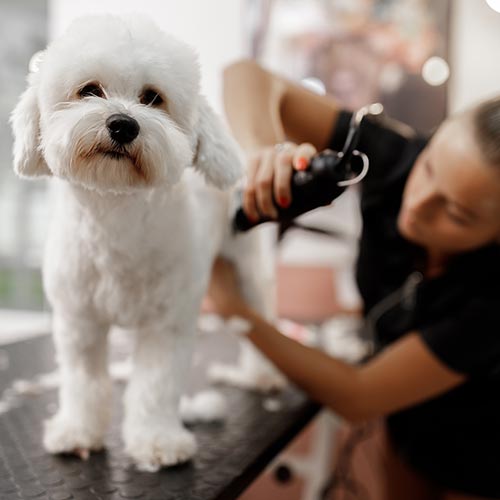 Grooming
We use only the finest dog-safe all-natural shampoos, dyes, and conditioners here at Paw Haven
Hear From Our Pet Parents
Get in Touch
(747) 250-9354