Dog Daycare in Tarzana
Offering Dog Daycare in Tarzana, when owners are at work or play, Paw Haven is the place for your doggy to stay! It is our pleasure to serve pet owners and their pets in Tarzana, CA.
Tarzana's Best Dog Daycare
Leaving your dog alone at home isn't an option at Paw Haven, our Tarzana area dog daycare center & hotel. Being stuck home alone all day long can cause anxiety, restlessness, and destructive behaviors in your dog. But when your best friend has a constructive channel for their energy everyone triumphs.
Instead of stressing over where their owners are, canines will enjoy playing, cuddling, and basking in loads of attention from our team of fellow dog lovers. At Paw Haven, we provide a variety of boarding choices, daycare arrangements, and grooming services to ensure your stay is nothing short of extraordinary.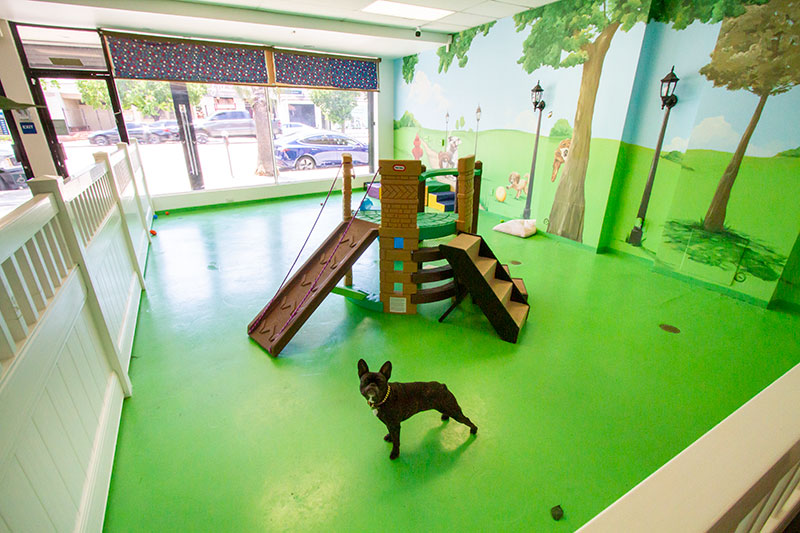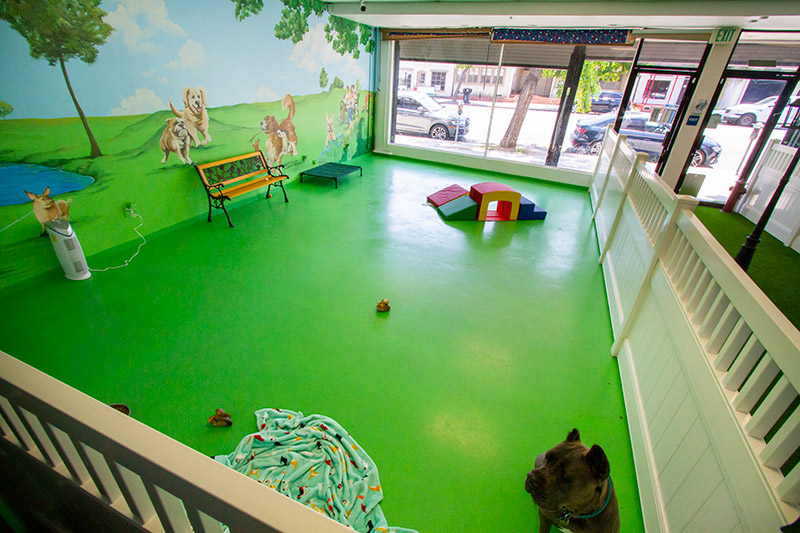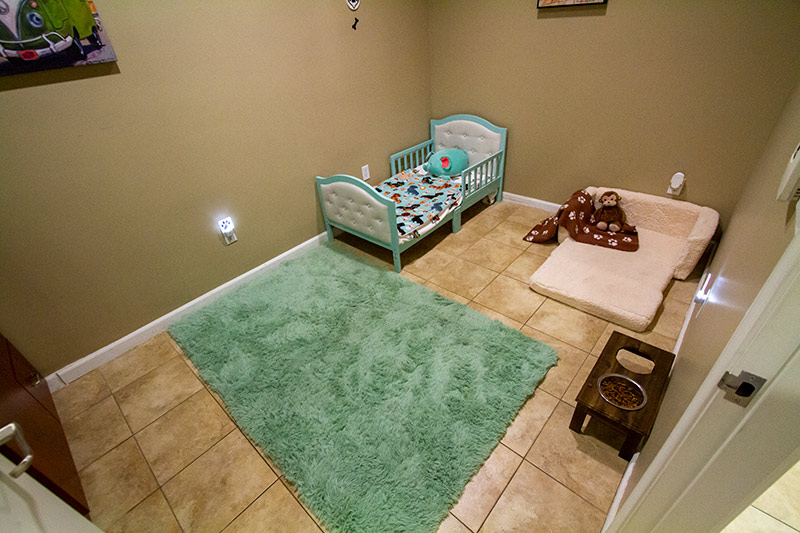 Happy Dog, Happy Life
We prioritize health and safety here at Paw Haven. Your dog will receive lots of love and positive attention from our experienced crew, all while under supervision. At our spotless, entertaining facility, your dog will have a blast at our dog daycare in Tarzana.
Moreover, we are dedicated to providing quality dog daycare services. Every play area has epoxy and beading installed for traction. Epoxy is softer on paws than concrete, while cushions help protect your dog's joints. Each play area is made safer and more comfortable for all canines thanks to our flooring. Therefore, your dog will be able to have a more pleasant daycare experience if they suffer from joint troubles, hip pain, dysplasia, or other conditions that might cause discomfort.
We have hospital-grade air circulation filters installed throughout our building. These are the same filters that are used in veterinary offices, medical facilities for us humans, and many other locations where the air has to be properly and safely filtered. This makes sure that your dog will be healthy, happy, and protected all while reducing airborne bacteria. Additionally, We enhance the comfort of your pup with our facility's climate-controlled indoor rooms, which have large windows that bring in plenty of natural light.
You can see for yourself why we are among the top dog daycare choices in the Tarzana region by visiting our facility.
Furthermore, our skilled staff divides the daycare space according to the needs of each group of dogs. The play spaces will be divided if we have a few energetic dogs so that those with greater energy can play together and easier-going dogs can relax. As well as dividing areas by size, we can have a play area for larger dogs on one side and a separate play area for smaller breeds, so that every dog is accommodated.
Flexible Daycare Rates to Accommodate Your Needs
At Paw Haven, there's something for essentially everyone. We understand that every dog owner has different needs and requirements. For this reason, we have many daycare packages, boarding solutions, and services available. Also, we welcome multiple dogs; each additional dog is 10% off!
$45 Full Day
Full-Day Care is ideal for dogs that must attend daycare for more than 4 hours
$35 Half Day
Perfect for short stays of 4 hours or less
$15 Hourly Rate
Perfect for those seeking a flexible dog daycare.
*Each additional pet 10% off!
Full Day Packages
5 Full Days: $15 Off
10 Full Days: $40 Off
20 Full Days: $100 Off
30 Full Days: $200 Off
Half Day Packages
10 Half Days: $310
20 Half Days: $580
Checkout Time is 6pm Daily
*All packages expire 1 year after purchase. 
Packages are non-refundable and non-transferable. 
Quality Grooming & Spa Services
When you pick up your dog, they will have been groomed and pampered by our skilled crew
Additional Training
Allow us to lend a paw if your pup is in need of some training, or even if you just wanna teach an old dog new tricks!
Yes Uber for Dogs?
We are more than happy to give your pooch a ride to and from our facility around the Tarzana area
Tasteful Treats
Your pup is sure in for a treat when you choose our dog daycare in Tarzana
Puppy report Cards
Curious to see what your pooch is up to? Stay up-to-date with our personalized report cards per your request
One on One Playtime
Is your bestie coming up on a milestone? We'd be more than happy to celebrate their special day with you!
Taking a Stroll
We'll make sure your bud gets in their daily walk and stretch out those legs right here around the Tarzana area
Partytime
Is your bestie coming up on a milestone? We'd be more than happy to celebrate their special day with you!
Tail Wagging Desserts
Get those tails wagging with our owner-approved dog safe desserts!
Medicine Administration
No need to fret, if your dog is currently on medication, we are more than equipped to administer medicine while you're away. Just let us know!
Bedtime Routines
When you choose to board at Paw Haven dog daycare in Tarzana, your fur baby won't have sleep troubles with a little help from our white noise machines and some soothing music to ease them.
The Tarzana area is bursting with Dog Boarding and Canine Daycare options, and we are ready to help! We'd love to be your pet's next best stay! Please give us a call to learn more and book your next visit!
Requirements for Attendance
To ensure that all the dogs who attend our daycare are safe and healthy, Paw Haven has a few standards that must be met first. All dogs must meet the following standards:
Owners must fill out our application prior to attending dog daycare or boarding
All dogs must undergo a short (free) evaluation
All dogs must be on a current flea medication
All dogs must be on a current flea medication
All dogs must be current on their shots or have titer tests to show immunity to Leptospirosis, Distemper,  Bordetella, and Rabies
Additional Info
Before your dog's first visit at Paw Haven, we recommend that you drop your puppy off at the daycare at least one day prior to your stay to allow enough time for your dog to acclimate to our facility. This helps us a lot in getting to know your buddy as it helps us choose the best boarding package for you and vice versa. Paw Haven is sure to be a paradise for your furry friend when you choose dog daycare in Studio City to fill their day with lots of fun and exciting activities. So let your never-ending search for the perfect kennel or dog daycare center near you quite literally come to a complete stop when you book your pal's next stay here at Paw Haven hotel!
Please contact us for more information or to plan a visit. We want to make the next best stay for your pet!
Do dogs benefit from staying at a daycare?
Yes! Definitely! Absolutely! We strongly encourage owners to consider their options when having to part with their friends for that business trip or vacation. Stress and anxiety is the last thing we want for your dog, so allow us to give your pup a positive outlet to be themselves, socialize, and prevent negative behaviors.
What activities will my dog be engaging in during daycare at Paw Haven?
Your goal is to turn Paw Haven into a paw heaven for your dog! Our indoor play areas are copious with toys, roaming rooms, and thrilling equipment to keep playtime feeling never-ending! 
To ensure every dog feels comfortable, we provide a variety of playgroup alternatives. For example, separating larger, more outgoing dogs, from our little guys. Nonetheless, dogs of all temperaments and sizes can benefit greatly from playtime, treats, cuddles, toys, and endless attention from our team of doggie experts.
Do you need to meet my dog before their first stay?
All of our clients are required to go through a free behavioral assessment prior to enrolling in daycare
Who will be supervising my dog during their stay at Paw Haven?
Through a combination of classroom instruction and on-the-job training, all of our employees receive extensive training. Our staff members carefully monitor each and every play session to ensure your dog is happy and healthy, plus a wellness check is conducted on your pooch twice a day.
Are dogs with special needs accepted at Paw Haven?
We are prepared to meet the unique special needs of every dog at our dog daycare in Tarzana; however, please be sure to contact our reservation specialist to discuss your fur baby's needs to ensure their stay runs as smoothly as possible.
What are Paw Haven's dog daycare hours?
Mon – Fri: 7:00 am to 7:00 pm
Sat – Sun: 9:00 am to 6:00 pm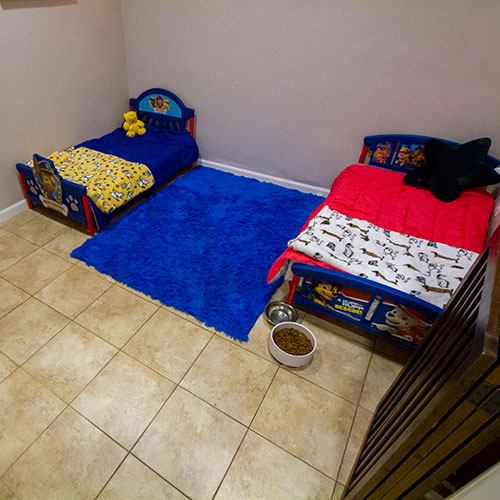 Boarding
From our premier facility to our experienced and highly-trained staff, we work hard to ensure that your dog's overnight stay is excellent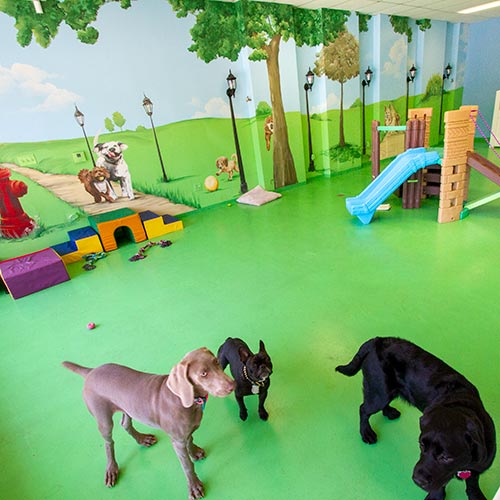 Daycare
Instead of worrying about where their owners are, your dog can enjoy playing, getting cuddles, and lots of attention from our expert dog daycare team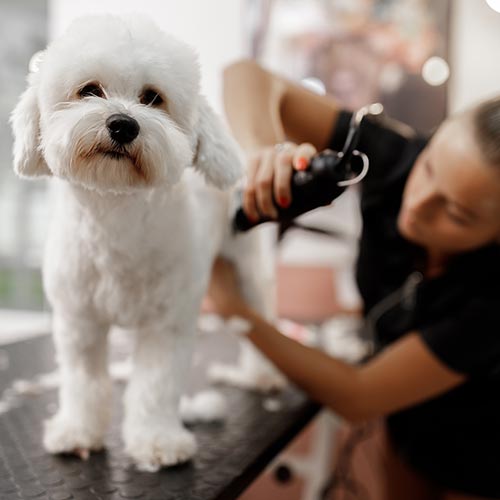 Grooming
We use only the finest dog-safe all-natural shampoos, dyes, and conditioners here at Paw Haven
Hear From Our Pet Parents
Get in Touch
(747) 250-9354