Dog Daycare in Studio City
Providing Dog Daycare in Studio City, when owners are away at work or play, Paw Haven is the place for mans best friend to stay! All of your dog's needs are taken care of in a safe, fun, and polite manner.
Dog Daycare Done Right
Leaving your furry friend at home all day can lead to discomfort, anxiety, and harmful behaviors. As fellow dog lovers, we desperately want to avoid this, so allow us to introduce ourselves: welcome to Paw Haven. Placing your pup in our fun filled Dog Daycare in Studio city is a great alternative to leaving your best friend behind alone at home while you're away.
 We won't leave a moment to spare for your pooch to be worried about your whereabouts while their engaging in endless fun activities, engaging toys, socializing with playmates, showered with attention, and cared for by our compassionate staff. With so many add-ons to choose from, we guarantee Paw Haven will become a paw heaven for your pooch!
.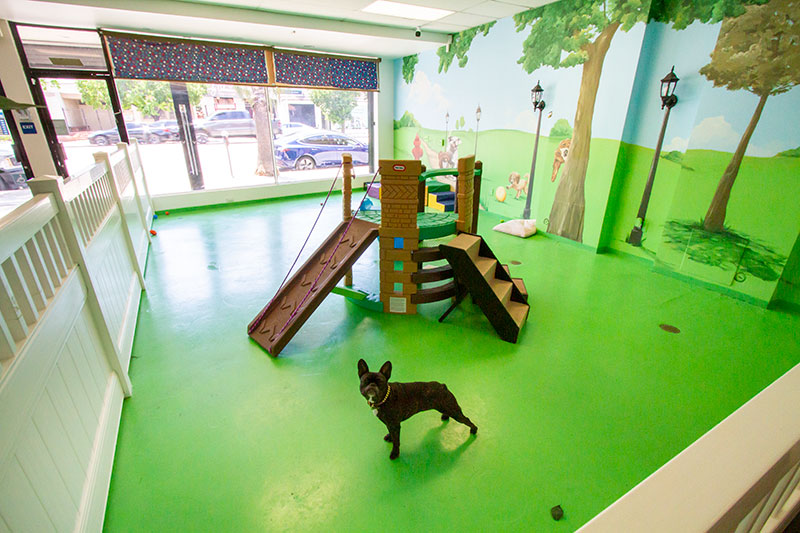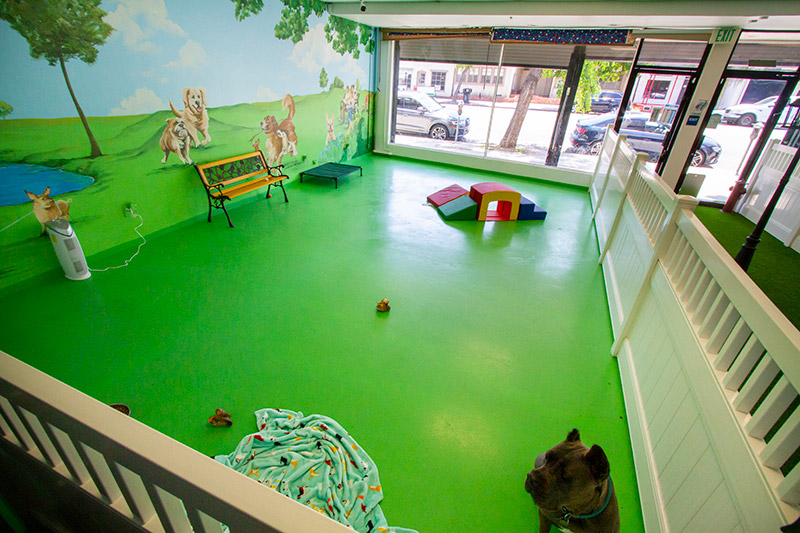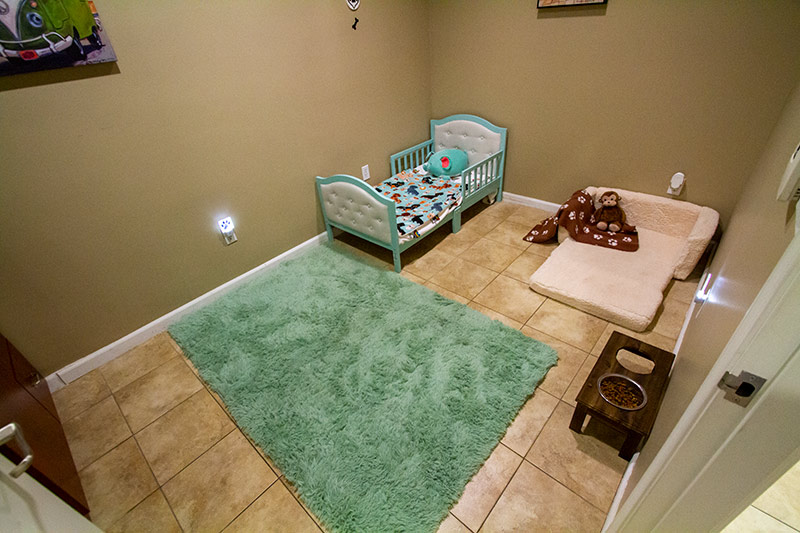 This is Our Dog House
Health and safety are our top priorities. Our professionally prepared, dog-loving team members will provide your beloved dog with affection, attention, and protection under careful supervision under our staff.
Each play area of our vast campus features a fitted epoxy floor. These floors ensure delicate joints and paws are cushioned for any occasion. Whether your dog has joint problems, hip problems, or dysplasia, you can enjoy our 100% cage-free campus to the fullest. We also installed floor-to-ceiling windows and hospital-grade air ducts throughout the facility, the likes of which you'd see in a human hospital! This eliminates microbes in the air and ensures your dog stays healthy, happy, and safe.
 Floor-to-ceiling windows provide plenty of natural light, and the air-conditioned interior enhances your dog's comfort. With air conditioning, your dog will be perfectly comfortable. Come visit our office and see the wonders for yourself! You will find that we are one of the finest dog daycare facilities in the Studio City area.
In addition, our highly trained staff divides the margin according to the situation. For example, if you have two enthusiastic dogs, we divide the play area so that the active fur babies can play together on one side and the gentler pups can relax on the other. We can also arrange our play areas to keep large dogs and small dogs in separate play areas to ensure dogs of all size, breeds, and temperaments are accounted for.
Flexible Daycare Rates to Accommodate Your Needs
At Paw Haven, there's something for essentially everyone. We understand that every dog owner has different needs and requirements. For this reason, we have many daycare packages, boarding solutions, and services available. Also, we welcome multiple dogs; each additional dog is 10% off!
$45 Full Day
Full-Day Care is ideal for dogs that must attend daycare for more than 4 hours
$35 Half Day
Perfect for short stays of 4 hours or less
$15 Hourly Rate
Perfect for those seeking a flexible dog daycare.
*Each additional pet 10% off!
Full Day Packages
5 Full Days: $15 Off
10 Full Days: $40 Off
20 Full Days: $100 Off
30 Full Days: $200 Off
Half Day Packages
10 Half Days: $310
20 Half Days: $580
Checkout Time is 6pm Daily
*All packages expire 1 year after purchase. 
Packages are non-refundable and non-transferable. 
Keep Tails Wagging With These Add-ons!
Luxury Spa & Grooming
Pamper youth pooch before his or her stay comes to an end with an exit bath and make them feel like a puppy again!
Train Hard, Play Hard
We'd be more than happy to lend a paw with vigorous training, or even if you just want to teach an old dog new tricks
Need a Lift?
Our shuttle services can give your dog a ride to and from our facility around the Studio City area
Snack Time
Spice up snack time with a treat! Or should I say, sweet it up for your pup!
Reporting For Duty
Stay up to date with exactly what your pup is up to! Our daily puppy report cards are available per your request
Private Play
We want your fur baby to feel as comfortable as possible during their stay, so we can arrange one of our loving team members to provide your doggie with one-on-one playtime so that they can feel safe at our dog daycare in Studio City
Let's Go for a Stroll
We can't let your pal skip out on leg day, so allow us to take them for an enriching walk around the Studio City area
Birthday Celebrations
Did some puppy call for a party planner? Let us celebrate their milestone together!
Doggie Desserts
Get those tails wagging with our owner-approved dog safe desserts!
Medication Administration
If your dog needs medication, we'll handle it while your away, just let us know in advance
Bedtime Routines
To help your pooch wind down for their overnight stay, allow us to ease them peacefully into sleep with calming music and a little help from our ambient white noise machines
Have you been searching forDog Daycare Near Me in the Studio City? Stop searching you found the best one! To learn more or schedule a visit contact us today.
Requirements for Attendance
To ensure that all the dogs who attend our daycare are safe and healthy, Paw Haven has a few standards that must be met first. All dogs must meet the following standards:
Owners must fill out our application prior to attending dog daycare or boarding
All dogs must undergo a short (free) evaluation
All dogs must be on a current flea medication
All dogs must be on a current flea medication
All dogs must be current on their shots or have titer tests to show immunity to Leptospirosis, Distemper,  Bordetella, and Rabies
Additional Info
Before your dog's first visit at Paw Haven, we recommend that you drop your puppy off at the daycare at least one day prior to your stay to allow enough time for your dog to acclimate to our facility. This helps us a lot in getting to know your buddy as it helps us choose the best boarding package for you and vice versa. Paw Haven is sure to be a paradise for your furry friend when you choose dog daycare in Studio City to fill their day with lots of fun and exciting activities. So let your never-ending search for the perfect kennel or dog daycare center near you quite literally come to a complete stop when you book your pal's next stay here at Paw Haven hotel!
Please contact us for more information or to plan a visit. We want to make the next best stay for your pet!
What are the benefits of placing my dog in daycare?
Dogs of all breeds and sizes benefit greatly from daycare experiences! It is important for their health to maintain proper mental and physical stimulation, for a healthy dog is a happy dog! Furthermore, letting your dog socialize and engaging in fun activities can balance their temperaments and combat against forming destructive habits and separation anxiety.
What will my dog do at Sherman Oaks Dog Daycare?
Fun! Fun! Fun! Dashing and playing with a variety of exciting equipment our campus play areas have to offer. We also provide a wide variety of playgroup choices. Dogs of all temperaments and sizes greatly benefit from a playgroup, large or small. Your dog will have a great time at the hotel thanks to safe dog toys, attention, treats, cuddles and fun activities provided by our devoted staff.
Do you need to get to know my dog before the visit?
We require that our clients arrange a behavioral evaluation with one of our employees before scheduling their daycare or overnight stay with us. We also recommend placing your pooch in a full day of dog daycare to help them grow more comfortable in this new environment before transitioning into the overnight portion of the stay.
Who will be monitoring my dog at the dog daycare in Studio City?
Safety is the best policy. All team members undergo extensive training that combines classroom and hands-on training. We conduct wellness checks twice a day on each and every dog to ensure they are happy and healthy. Every playtime session is carefully supervised at Paw Haven by expert and trained staff.
Does Paw Haven offer care for dogs with special needs?
Yes! We make sure the needs, no matter how big or small, are met under our care at Paw Haven. Please be sure to contact our reservation specialist before arranging your dog's next best stay so ensure we can accommodate your pup properly
What are Paw Haven's dog daycare hours?
Mon – Fri: 7:00 am to 7:00 pm
Sat – Sun: 9:00 am to 6:00 pm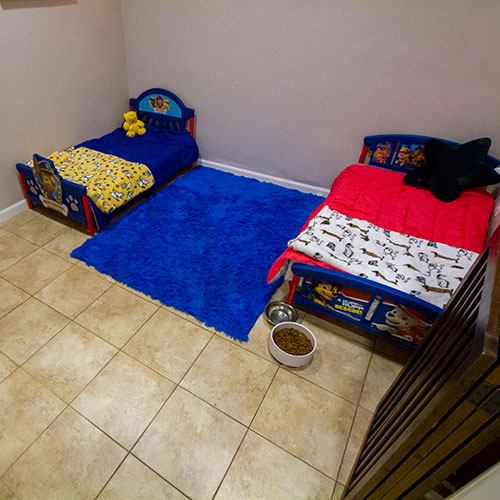 Boarding
From our premier facility to our experienced and highly-trained staff, we work hard to ensure that your dog's overnight stay is excellent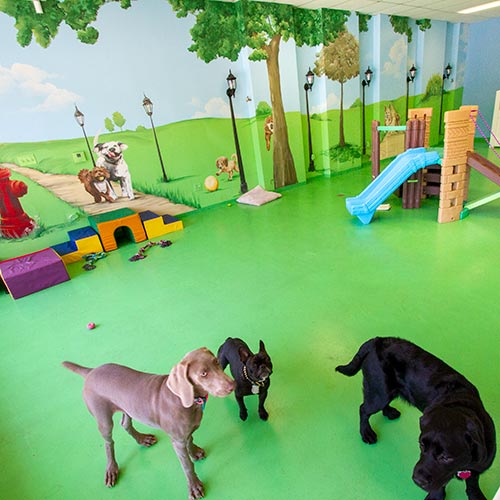 Daycare
Instead of worrying about where their owners are, your dog can enjoy playing, getting cuddles, and lots of attention from our expert dog daycare team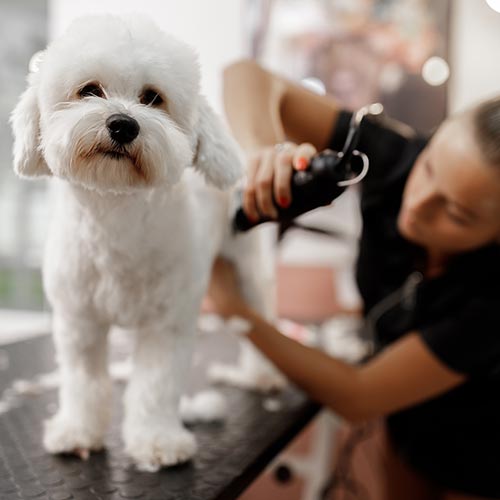 Grooming
We use only the finest dog-safe all-natural shampoos, dyes, and conditioners here at Paw Haven
Hear From Our Pet Parents
Get in Touch
(747) 250-9354