Dog Daycare in North Hollywood
Providing Dog Daycare in North Hollywood, Paw Haven is your doggies best place to stay while you're away! We are proud to serve North Hollywood, CA pet owners, and their pets.
Dog Daycare The Right Way
As fellow dog-lovers, we understand how difficult it can be to leave your fur baby behind, for leaving your furry friend home alone all day can lead to anxiety, stress, and damaging behaviors. When you place your pup in our paws here at Paw Haven, we guarantee your dog a positive outlet to let loose, stretch those paws, and relax while you're away! Our doggie daycare in North Hollywood is 100% cage free and 100% supervised by our dedicated team members, unlike your typical stuffy kennel.
Your pup won't have to worry about your whereabouts when they're busy getting pampered at Paw Haven hotel! With so many care packages to choose from, Paw Haven will most definitely be paw heaven for you and your pooch when you choose us for dog daycare in North Hollywood.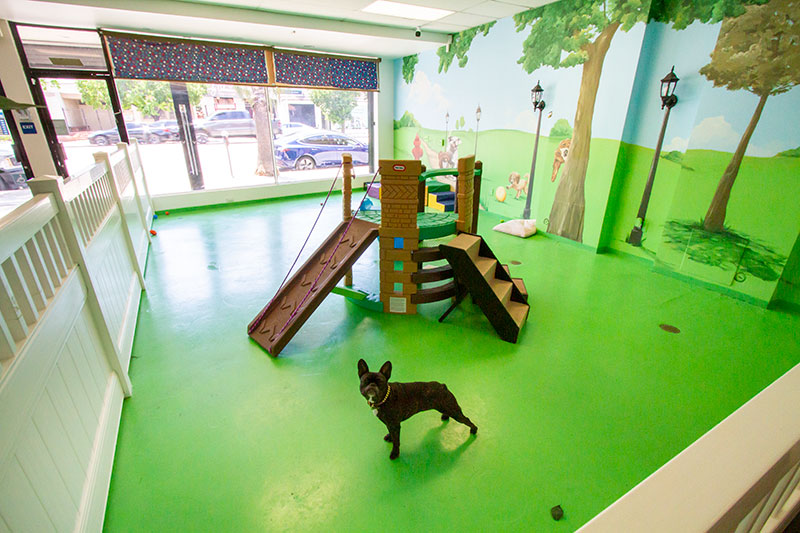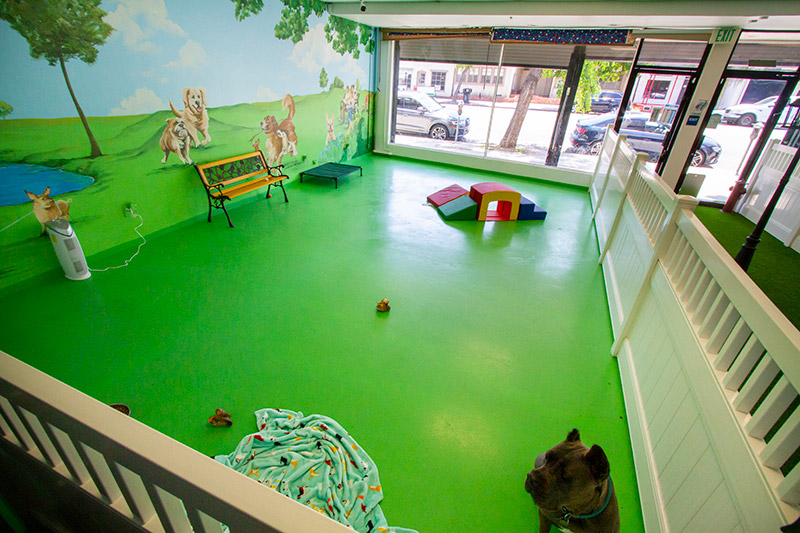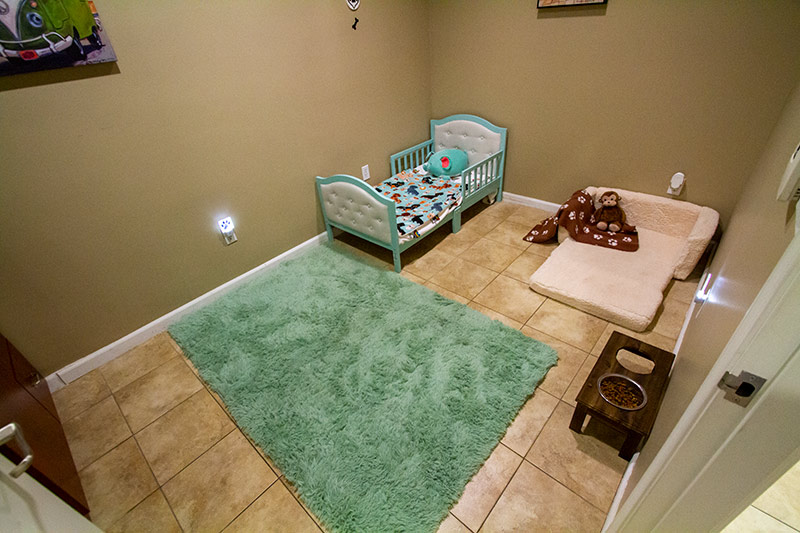 Live, Laugh & Love Your Dog's Next Stay
We keep those tails wagging at our dog daycare in North Hollywood. Our compassionate team members are fully trained and highly experienced to fulfill the unique needs of every dog above and beyond. Your beloved buddy will be basking in cuddles, attention, and endless playtime with our loving staff!
Our cage-free campus is meticulously supervised, while your dog can stretch his or legs in our fully furnished and play area floor are fitted with epoxy & beading for traction, and epoxy is soft on the paws vs concrete, providing cushioning for your dog's joints, so, if your pal suffers from hip issues or dysplasia, they'll be able to enjoy our facility to the fullest. Plus, our floor-to-ceiling windows make the most of the daylight and keeps our indoor spaces feeling lively and comfortable. With a medical grade air filtration system and premium air conditioner, we'll make certain that your dog's stay is nothing short of extraordinary when you choose our dog daycare in North Hollywood.
In addition, our talented staff will divide the play space according to the situation at hand. For example, if we have several enthusiastic dogs, the play areas will be segregated with strong, rambunctious dogs playing together on one side while on the other side are more calm folks that can relax. We can also divide the space by size, with larger dogs in one part of the playroom and smaller breeds in a separate, protected play area to ensure dogs of every size and breed feels comfortable in their environment.
Flexible Daycare Rates to Accommodate Your Needs
At Paw Haven, there's something for essentially everyone. We understand that every dog owner has different needs and requirements. For this reason, we have many daycare packages, boarding solutions, and services available. Also, we welcome multiple dogs; each additional dog is 10% off!
$45 Full Day
Full-Day Care is ideal for dogs that must attend daycare for more than 4 hours
$35 Half Day
Perfect for short stays of 4 hours or less
$15 Hourly Rate
Perfect for those seeking a flexible dog daycare.
*Each additional pet 10% off!
Full Day Packages
5 Full Days: $15 Off
10 Full Days: $40 Off
20 Full Days: $100 Off
30 Full Days: $200 Off
Half Day Packages
10 Half Days: $310
20 Half Days: $580
Checkout Time is 6pm Daily
*All packages expire 1 year after purchase. 
Packages are non-refundable and non-transferable. 
Luxury Grooming & Spa Service
Allow us to pamper your pooch before their stay comes to an end with an exit bath, so that they are sparkling clean before coming home!
Lend A Paw for Training
If your pup needs some additional training, allow us to lend a paw with our dog training professionals
Shuttle Services
Does your pal need a lift? Our shuttles can pick up and drop off your dog to and from our dog daycare in North Hollywood and surrounding areas
Scrumptious Snacks
Our dog-owner approved delicious, yet nutritious treats are sure to brighten up your dog's day!
Up-to-Date Report Cards
Wonder what man's best friend is up too while you're away? Don't let curiosity kill the cat when you can receive daily detailed report cards throughout their stay per your request
One-on-One Playtime
To help ease your dog's transition and adjustment to a new environment, we can arrange for your pooch to spend quality one-on-one time with one of our staff members to limit anxiety and ensure that your furry friend feels safe and secure at our dog daycare in North Hollywood.
Let's Go for a Walk
We'll make sure that daily walk routine is met while you're away with an enriching walk around the North Hollywood area.
Special Occasions
It's that time of year already? Let us know if your buddy is coming up on a milestone, so we can celebrate their special day!
We Love Desserts!
Woof over these tasty treats! Spoil them! After all they are on a vacation of their very own here at Paw Haven
Medication Administration
If your doggo is currently on medication, we can give them their medicine with care while you are away, just let us know.
Winding Down
We aim to make sure your fur baby's transition into their overnight stay is as smooth as possible, so with a little assistance from our ambient noise machines and calming music, we'll ease your dog right into sleep at our dog daycare in North Hollywood
Have you been looking  for Dog Daycare Near Me in the North Hollywood? Stop searching and give us a call to learn more or schedule a visit to Paw Haven.
Requirements for Attendance
To ensure that all the dogs who attend our daycare are safe and healthy, Paw Haven has a few standards that must be met first. All dogs must meet the following standards:
Owners must fill out our application prior to attending dog daycare or boarding
All dogs must undergo a short (free) evaluation
All dogs must be on a current flea medication
All dogs must be on a current flea medication
All dogs must be current on their shots or have titer tests to show immunity to Leptospirosis, Distemper,  Bordetella, and Rabies
What First Time Visitors Should Know
If this is your dog's first time with us, we strongly recommend that you bring your puppy to our daycare at least a day before staying overnight to make sure your dog has adequate time to adjust to the Paw Haven facility. This will help us get to know your furry friend better and vice versa as we can help you choose the boarding package that best accommodates the needs of your doggie. Staying at Paw Haven is sure to be a heavenly experience when you know that they are spending their time away in an exciting and engaging environment with fun activities and tender-loving care.
If you have been searching endlessly for the perfect dog kennel or dog daycare places near you in North Hollywood, stop searching and call Paw Haven now to learn more or to plan a visit.
Is dog daycare good for my dog?
Absolutely! The benefits of dog daycare are greater than what meets the eye! Making sure your furry friend stays properly stimulated both physically and mental is crucial to maintain a stress-free environment. In addition, we find that socializing with other dogs promotes balanced behavior and simply a happier dog! So, shield your dog from separation anxiety by being left home alone and instead grant them an enriching time of fun here at Paw Haven doggie daycare.
What activities can I expect my dog to be doing while at Paw Haven's dog daycare in North Hollywood?
We work hard and play harder at Paw Haven to keep those happy tails wagging! From running, jumping, playing with other dogs both indoors and outdoors, we make sure ou dog is engaged and comfortable to be themselves at our campus. We also offer playgroup alternatives so that dogs of all sizes, ages, and temperaments can benefit from social interactivity. Plus, our delicious treats, exciting toys, fun activities, and endless attention from our devoted team members will be sure to make Paw Haven your dog's next best stay.
Do you need to meet my dog prior to visits?
We require our clients to meet with a staff member to conduct a free behavioral evaluation before enrolling in our dog daycare in North Hollywood. We also strongly suggest scheduling your pup a full day of doggie daycare prior to their overnight stay to allow for the smoothest transition possible.
Who exactly supervises my dog to ensure they are safe while at daycare?
The health and safety of your pet is one of our top priorities. Each Paw Haven Employee undergoes extensive training that combines classroom and hands-on training. Each dog is checked twice a day to make sure he or she is truly happy and healthy. They are carefully supervised by experienced and trained staff whenever they have time to play.
Does Paw Haven accept dogs with special needs?
We are more than happy to care for and meet the special needs of your dog. However, please be sure to speak with our reservation specialist about your dog's specific needs before your visit, so we can further accommodate your pooch!
What are Paw Haven's dog daycare hours?
Mon – Fri: 7:00 am to 7:00 pm
Sat – Sun: 9:00 am to 6:00 pm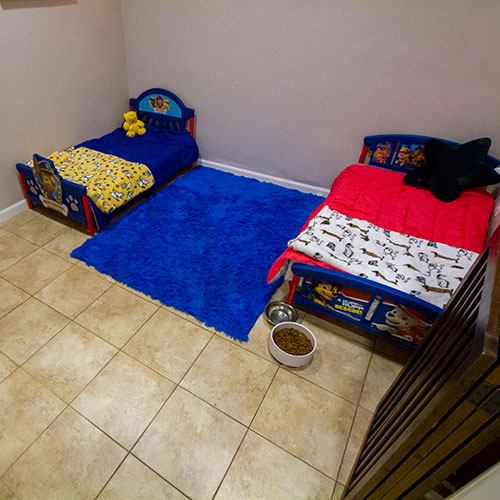 Boarding
From our premier facility to our experienced and highly-trained staff, we work hard to ensure that your dog's overnight stay is excellent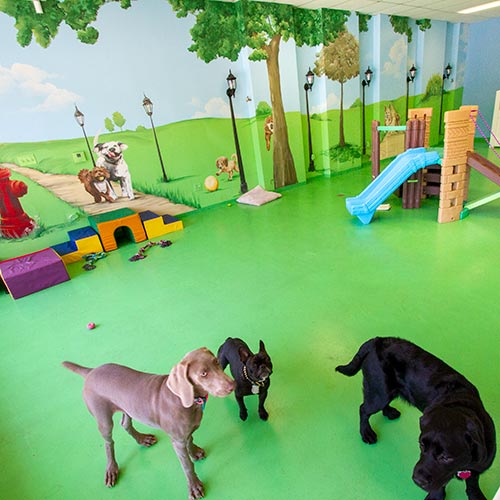 Daycare
Instead of worrying about where their owners are, your dog can enjoy playing, getting cuddles, and lots of attention from our expert dog daycare team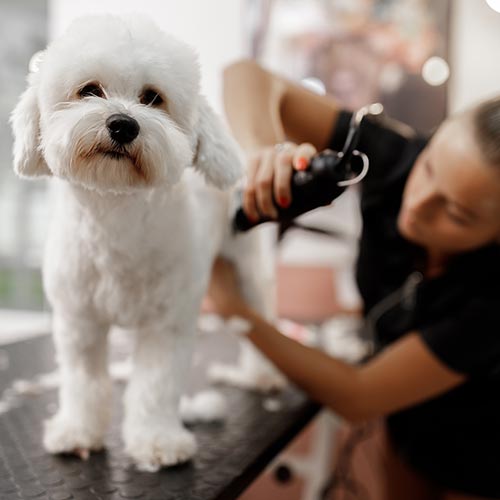 Grooming
We use only the finest dog-safe all-natural shampoos, dyes, and conditioners here at Paw Haven
Hear From Our Pet Parents
Get in Touch
(747) 250-9354