Dog Daycare in Encino
Paw Heaven offers quality dog daycare in Encino, CA. Our team is thrilled to help owners make their furry friends feel at home when they're away or at work for the day.
Dog Hotel & Daycare, Where Pampered Pups Come to Play
Leaving your dog home alone all day can lead to anxiety, restlessness, and destructive behaviors. However, everyone wins when dogs have a positive outlet for their energy. At Paw Haven, our Sherman Oaks area dog daycare center & hotel is a fantastic alternative to leaving your furry friend home alone.
Instead of worrying about where their owners are, dogs can enjoy playing, getting cuddles, and basking in heaps of attention from our expert staff team. With an array of boarding options, daycare plans, and grooming services available here at Paw Haven.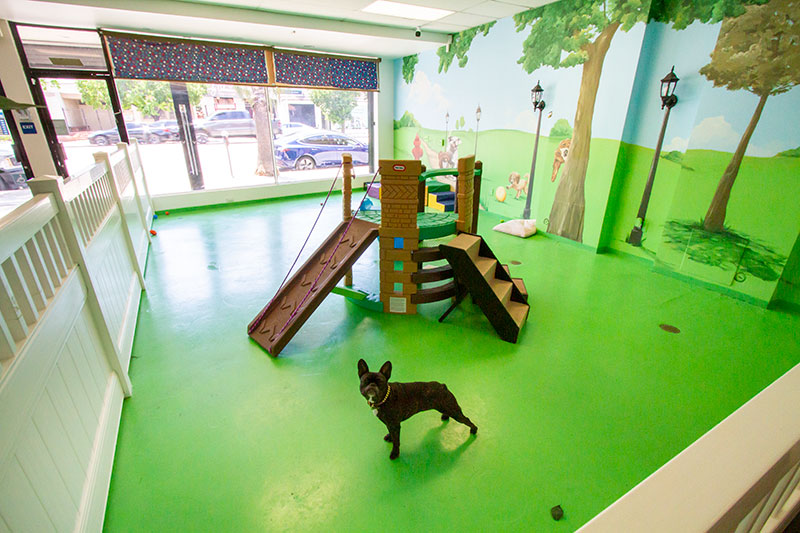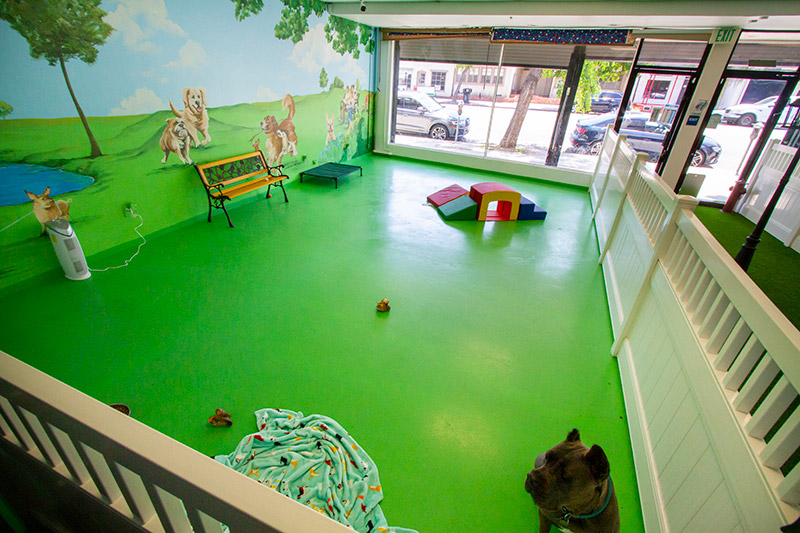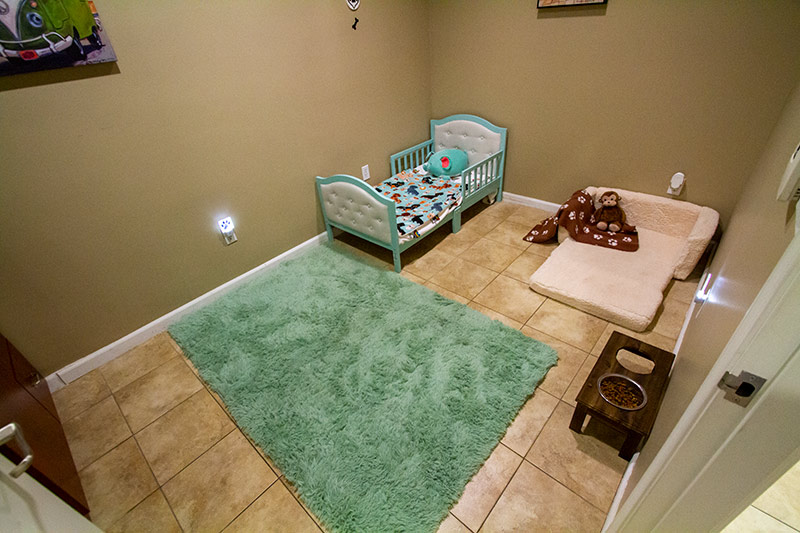 Safe & Spacious Play Areas For Healthy Happy Hounds
Health and safety are top priorities for us. Our expertly trained team of dog lovers will shower your dog with affection and affirming attention while keeping them as safe as possible at all times. Your pup will have a blast at our clean, fun-filled facility.
We take our doggy daycare services seriously. Every play area floor is equipped with epoxy & beading for traction, and epoxy is soft on the paws vs concrete, providing cushioning for your dog's joints.  So, if your dog has joint issues, hip problems, dysplasia, or other issues that can cause discomfort, they will be able to enjoy a more comfortable daycare experience.
Additionally, we have floor-to-ceiling windows and hospital-quality air circulation filters installed throughout our facility. These are the same filters that you will find in veterinary clinics, human hospitals, and other environments where the air must be safe and adequately filtered. This helps to reduce airborne bacteria and ensure that your dog will have a healthy, happy, and safe stay.
Our Large windows let in plenty of natural sunlight, while our climate-controlled indoor spaces enhance the comfort of your dog. Therefore, with A/C and natural light, your dog will feel right at home. If you visit our facility, you can see for yourself why we are one of the best dog daycare options in the Sherman Oaks area.
Furthermore, our skilled staff team divides the daycare spaces as needed for each group of dogs. For example, if we have a few energetic dogs, the play spaces will be divided so that more energetic dogs can play together while easygoing pups can relax. We also can divide spaces based on size, with larger dogs in one half of a play area and small or toy breeds in a safe, separate play section.
Flexible Daycare Rates to Accommodate Your Needs
At Paw Haven, there's something for essentially everyone. We understand that every dog owner has different needs and requirements. For this reason, we have many daycare packages, boarding solutions, and services available. Also, we welcome multiple dogs; each additional dog is 10% off!
$45 Full Day
Full-Day Care is ideal for dogs that must attend daycare for more than 4 hours
$35 Half Day
Perfect for short stays of 4 hours or less
$15 Hourly Rate
Perfect for those seeking a flexible dog daycare.
*Each additional pet 10% off!
Full Day Packages
5 Full Days: $15 Off
10 Full Days: $40 Off
20 Full Days: $100 Off
30 Full Days: $200 Off
Half Day Packages
10 Half Days: $310
20 Half Days: $580
Checkout Time is 6pm Daily
*All packages expire 1 year after purchase. 
Packages are non-refundable and non-transferable. 
Spa and Grooming Services
Allow us to pamper your pooch before their stay comes to an end with our premium spa and grooming services!
Training Done Right
Who says an old dog can't learn new tricks? Either way, if your pooch is in need of some training, leave it to the pros to lend a helping paw
Need A Lift?
Our shuttle service is available to pick up and drop off your doggo at our facility
Tasty Treats
Keep those tails wagging and offer up your pup our delicious owner-approved snacks to brighten up their day while attending the best dog daycare in Encino
Custom Report Cards
Per your request, we can provide owners with detailed report cards you can stay up-to-date with everything man's best friend is up too!
One-on-One Quality Playtime
To help your bud adjust to new environments, we encourage individual playtime with our team members to promote a smooth transition into our daycare experience
Lets Go For A Walk!
There's no better way to keep your pup in tip-top shape than to take them on the enriching walk they deserve, so let us take your dog on a stroll around the Encino area
Celebrate Their Special Day
Is your champ celebrating a milestone? We've got your back when it comes to party planning a memorable birthday!
Doggo Desserts
Spoil your pooch with our delicious, yet nutritious dog-safe desserts! They're on vacation after all!
Medication Administration
Is your dog in need of medication? Just lets us know and we can arrange for you dog's medicine to be administered for you while you're away
Wind Down For Bedtime
Help your dog relax with a serene ambiance.
If you have been searching for a Dog Boarding or Dog Daycare  Near Me in the Sherman Oaks area, we are ready to assist you! To learn more or schedule a visit, we encourage you to contact us. We want to provide the ultimate haven for your fur baby!
Requirements for Attendance
To ensure that all the dogs who attend our daycare are safe and healthy, Paw Haven has a few standards that must be met first. All dogs must meet the following standards:
Owners must fill out our application prior to attending dog daycare or boarding
All dogs must undergo a short (free) evaluation
All dogs must be on a current flea medication
All dogs must be on a current flea medication
All dogs must be current on their shots or have titer tests to show immunity to Leptospirosis, Distemper,  Bordetella, and Rabies
Recommendations For Our Owners
We suggest highly that your pooch attends a minimum of one day of dog daycare in Enico with us prior to the overnight stay to ensure your pup is as comfortable as possible. Before your dog boards with us, we would like to get to know him or her (and vice versa). A fun-filled day prior to boarding will allow your dog to associate our facility with a fun place to be right away, which makes it easier for us to take care of them during their stay. It's more likely that your dog won't fall ill from stress or anxiety if they are more comfortable at Paw Haven.
Will dog daycare be beneficial for my dog??
Yes, definitely, and absolutely! In addition to providing physical and mental stimulation, daycare for dogs also keeps them healthy and happy. Moreover, socializing with other dogs can help create a more balanced temperament for certain breeds. Additionally, daycare may prevent separation anxiety and reduce destructive behaviors at home.
What will my dog be doing while at daycare?
Your dog will be playing and having an excellent time roaming around and engaging in our spacious indoor play areas! We offer many different playgroup options to accommodate all types of dogs, including size and temperament, so that your furry friend can be as social as they please. Plus, the best way for your dog to enjoy his stay is to provide him with safe toys, treats, cuddles, attention, and various fun activities.
Is it necessary for you to meet my dog first
Clients will want to meet with one of our team members in advance so that their canine can undergo a free behavioral evaluation earlier than they attend daycare. We additionally advise that your pup attends at least one day of daycare prior to overnight boarding at our facility.
Who watches the dogs and monitors their safety during dog daycare in Encino?
At Paw Haven, protection is our biggest priority. All of our personnel are exceptionally educated in a mixture of classes and on-the-job training. Wellness assessments are carried out twice each day on every canine to make certain that they are truly blissful and healthy. Playtime is always meticulously supervised by our skilled workforce members.
Are dogs with special needs able to board at Paw Haven?
Yes! All dogs are our welcome guests here at Paw Haven hotel! We are glad to accommodate pups with distinct needs. Please talk about your dog's required care with our Reservation Specialist before reserving your next stay at our dog daycare in Encino.
What are Paw Haven's dog daycare hours?
Mon – Fri: 7:00 am to 7:00 pm
Sat – Sun: 9:00 am to 6:00 pm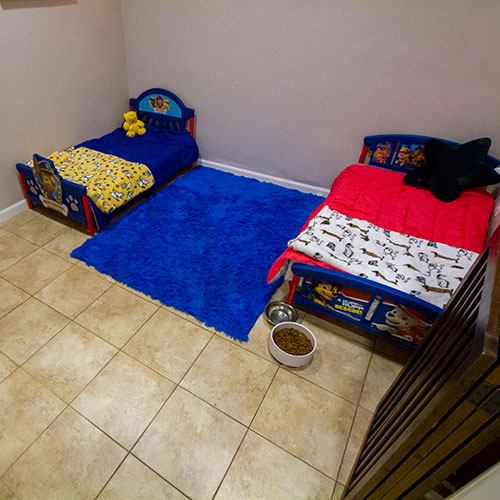 Boarding
From our premier facility to our experienced and highly-trained staff, we work hard to ensure that your dog's overnight stay is excellent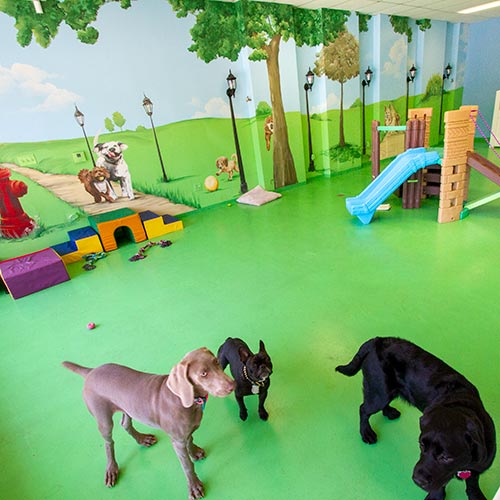 Daycare
Instead of worrying about where their owners are, your dog can enjoy playing, getting cuddles, and lots of attention from our expert dog daycare team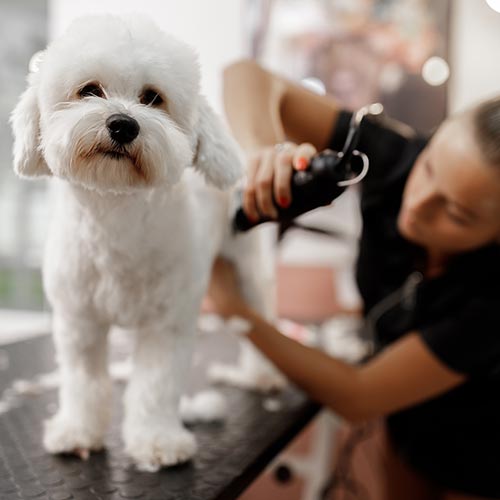 Grooming
We use only the finest dog-safe all-natural shampoos, dyes, and conditioners here at Paw Haven
Hear From Our Pet Parents
Get in Touch
(747) 250-9354