Dog Boarding in Van Nuys
The best dog boarding facility serving Van Nuys, CA. We create a fun and loving home for every pet. Providing outstanding dog boarding and daycare services in Van Nuys, CA.
Welcome to Paw Haven!
Have you been searching far and wide for the perfect kennel in Van Nuys to board your dog? Well, let your tiresome search come to an end, for Paw Haven welcomes you and your furry friend to your next best stay! As fellow dog lovers, we know how difficult it can be to find a trustworthy and reliable location for your pet to stay, but you can count on us to ensure your pup has endless fun while being safe and secure at our dog boarding facility in Van Nuys. Our cage-free ad fully supervised campus guarantees your pal won't be cooped up like other stuffy kennels. You won't regret your decision to begin dog boarding in Van Nuys with us once you view our full daycare experience, deluxe doggy, spa, luxurious rooms, and dedicated staff, and if you want to see what your dog is up to, check out our live stream during business hours!
Paw haven is nothing short of paw heaven. With multiple overnight packages and add-ons to choose from, we work faithfully to make certain your doggo's every need is met, and has the most delightful experience during their stay in Van Nuys.
Finest Dog Boarding in Van Nuys
Like we said: 100% cage-free and 100% percent fun! Our dog boarding in Van Nuys ensures your dog the freedom to roam about our campus and play to their heart's content while being fully supervised by our highly trained staff. Furthermore, our play areas promote safety and fun, floors are fitted with epoxy & beading for traction, and epoxy is soft on the paws vs concrete, keeping those precious paws and joints cushioned, and our high-quality air conditioning keeps our facility at a comfortable temperature. We even are equipped with medical-grade air filtration systems; the same caliber as one in a human hospital! So, we've got you covered while dog boarding in Van Nuys, After all, you're on vacation!
Our Quality Boarding Packages
Here at Paw Haven Van Nuys, we offer three different overnight experiences to choose from.
Call us to learn more about overnight stays, or to book your next visit!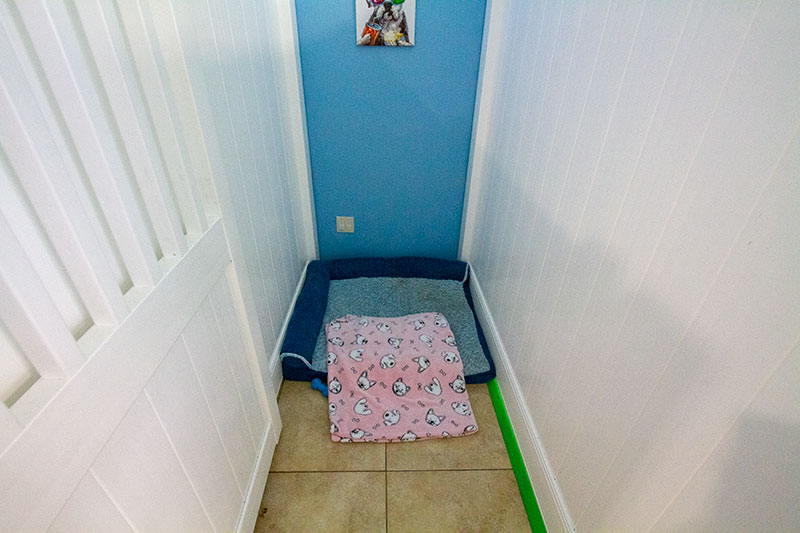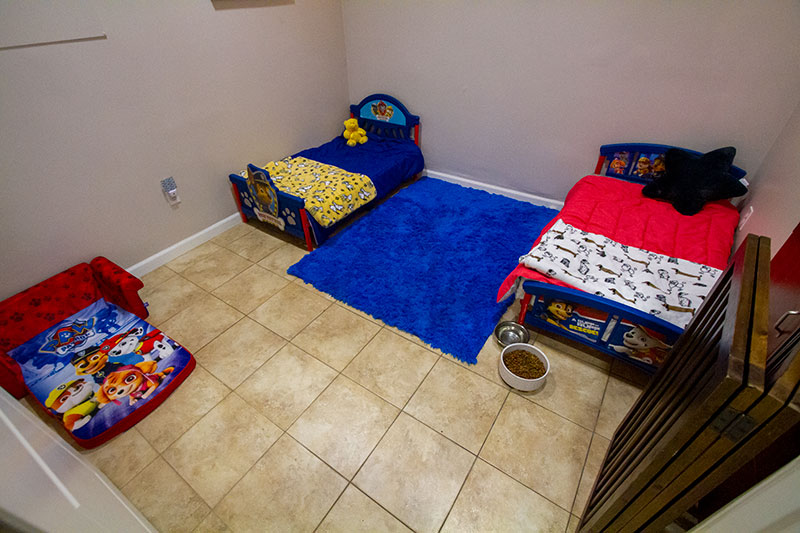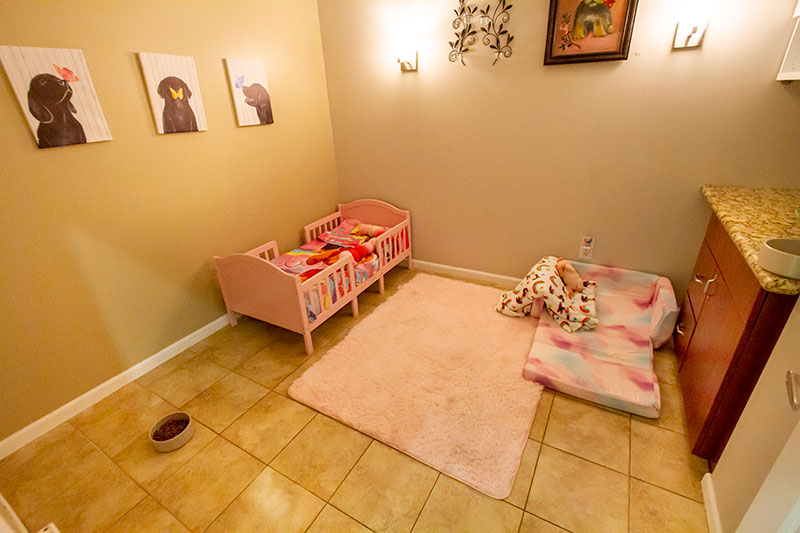 The Dog Slumber Party,
$70/Per Night. A large suite with a social experience for your pup!
The Private Suite
$80/Per Night. A comfortable, clean, 8' by 3.5' place for your dog to rest.
Private Penthouse
$105/Per Night. These fully decorated rooms come fitted with toddler beds and toddler couches. The rooms vary in size, ranging from 9' x 9' to 13' x 7'
Holidays: Additional $10/per night
Extended day discount (Excludes Holiday Weekends):
5 nights, 5% off
10 nights, 10% off
20 nights, 20% off
Each additional dog $10 off total, per night (Excludes Holiday Weekends)
*2 dogs in shared private room, take $10 off per night.
*3 dogs in shared private room, take $20 off per night.
*Multiple dog and long term stay discounts cannot be combined. The larger of the two discounts shall be applied.
Check In Times
Check-in time is 12pm.  Early check-in will be an additional daycare charge-either hourly or half day charge depending on how early.
Check-out time is 12pm.  Late check out will be an hourly, half day or full day daycare charge depending on checkout time.
Latest checkout is 6pm daily.
Select Your Add-ons 
One…two…three… Spoil Me!
Quality Grooming and Spa
Allow us to pamper your pooch before they walk out the door! They'll be glowing after boarding with us near Van Nuys!
Work Hard, Play Harder
Need help with some training, or maybe you just want to teach an old dog new tricks? Either way, we can lend a hand when you choose dog boarding in Van Nuys
Beep Beep! Shuttles Here!
Does your pup need a lift? Let's make it happen with our pick-up and drop-off shuttle service available around the Van Nuys Area
Does Someone Have A Sweet Tooth
We all deserve a little pick me up, so why shouldn't that be true for a man's best friend? Bring some of that sweetness into your dog's stay with our owner-approved treats!
Puppy Report Cards
Our dog boarding in Van Nuys keeps all of our owners up-to-date with everything their fur baby is up to with detailed report cards per your request
Individual Playtime
We believe one-on-one playtime is best if your buddy struggles adjusting to new environments, and our staff can help your pup warm-up
Let's Go for a Stroll
It's okay if you're skipping leg day, but not for your furry friend! Allow us to take your doggo for the enriching walk they deserve right here in the Van Nuys area!
Did Someone Say… Birthday?
Surprise! If your pal is celebrating their next milestone, then let us do the party planning while dog boarding in Van Nuys
Scrumdiddlyumptious Desserts
Our nutritious, yet delicious dog-safe desserts are sure to brighten up your dog's day!
Medicine Administration
If your dog is on medication during their stay, our high-experience staff can administer medicine while you are away, just let us know beforehand so we can take proper care of your pup
Wind Down for Bedtime
Begin your furry friend's nighttime routine with our in-house soothing music and ambient white noise machines to ease them into a good night's sleep while dog boarding in Van Nuys
If you've been searching for Dog Daycare or Dog boarding Near me in Tarzana, Search no more, call us today!
What Owners Need to Know About Paw Haven 
Our fully cage-free and fully supervised overnighting dog boarding in Van Nuys experience will keep your pup in safe paws here at Paw Haven, so there's no reason to worry when you're away.
With a wide range of boarding packages to choose from, allow us to help you in selecting the plan that's best for your pup with an in-depth visit to our facility before scheduling your dog's first overnight stay with us. We also suggest placing your pup in our doggie daycare for a full day prior to their visit to ensure a smooth, stress-free transition into their overnight care.
Our dog boarding in Van Nuys campus is readily equipped with fluffy toddler beds, couches, and blankets to make your precious pup's stay as comfortable as possible, so no need to bring additional items from home. 
We do request that you bring a sufficient amount of food to last the entire duration of the visit. Please be sure to supply us with food your dog eats daily and on a regular basis, for a sudden change in diet may result in tummy trouble that we don't want your dog to go through!
If your dog is currently on medication, please let us know when scheduling your visit so we are ready to administer the medicine for you while you are away.
Please be aware that we tend to book quickly during the holidays, so if you are looking to board with us during these seasons, please call and secure your dog's next best stay at Paw Haven in a timely manner.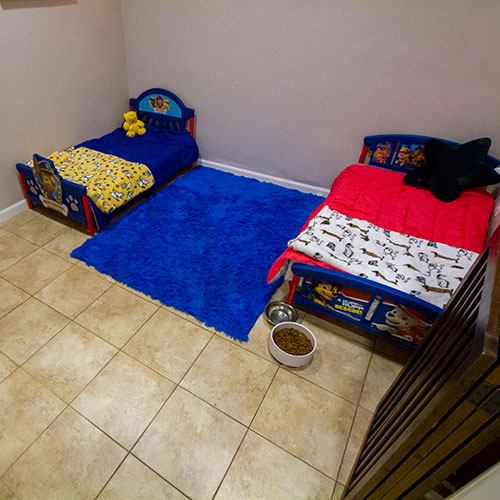 Boarding
From our premier facility to our experienced and highly-trained staff, we work hard to ensure that your dog's overnight stay is excellent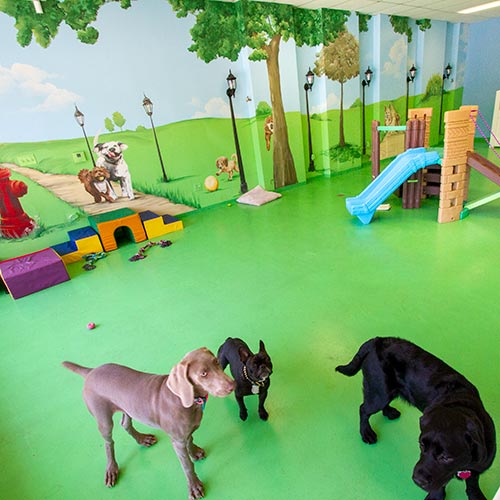 Daycare
Instead of worrying about where their owners are, your dog can enjoy playing, getting cuddles, and lots of attention from our expert dog daycare team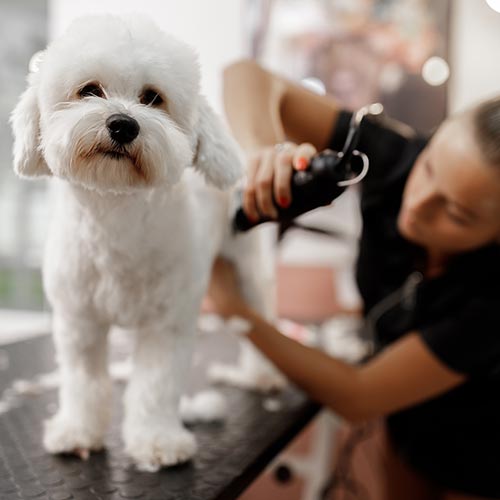 Grooming
We use only the finest dog-safe all-natural shampoos, dyes, and conditioners here at Paw Haven
Hear From Our Pet Parents
Get in Touch
(747) 250-9354