Dog Boarding in Valley Glen
Heading out of town and looking for the perfect spot for your pup to vacation too? Give your beloved pet the gift of luxury care. Secure a spot for dog boarding in Valley Glen now at Paw Haven.
Welcome to Your Next Best Stay 
Does your online search history look like "Dog Boarding in Valley Glen" or "Kennels Near Me," then look no further! Paw Haven stands as the ultimate solution to your doggy dilemmas. Serving Valley Glen and surrounding areas, our state-of-the-art establishment transcends the typical kennel, making it a paw heaven.
With a variety of boarding choices and extras to guarantee a joyful stay for your dog, our enthusiastic team is committed to elevating pet care standards, turning every second into a reason to tail wag.
Transforming the Dog Boarding Experience
We're in tune with the heartfelt emotions of bidding farewell to your cherished friend, even temporarily. By opting for dog boarding in Valley Glen, you embark on your travels with confidence, entrusting your dog to the exceptional care at Paw Haven.
Our vigilant team prioritizes your dog's well-being and happiness. They'll enjoy our custom-designed play zones with gentle epoxy floors, perfect for carefree play without a second thought to paw or joint safety.
What's more, Paw Haven's expansive, cage-free environment promotes mingling and ample space for your dog to stretch their legs, a refreshing change from the restrictions of conventional kennels. Plus, for that added touch of tranquility, we offer a calming ambiance with top-tier air filtration and mellow music, ensuring Paw Haven is the pinnacle of canine indulgence.
Looking for top-notch dog boarding services in Valley Glen? Look no further! Our caring and experienced team provides a safe, fun environment for your furry friend while you're away. Give your pup the ultimate staycation—book with us today and ensure your dog has a tail-wagging good time!
Choose the Package Right For You 
Paw Haven presents three unique boarding packages for your selection.
Reach out to us to discover more about reserving your dog's next getaway in Valley Glen!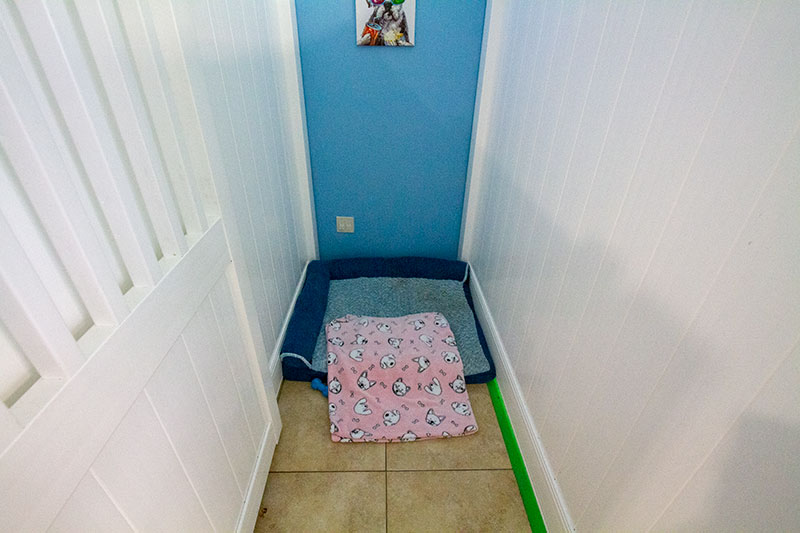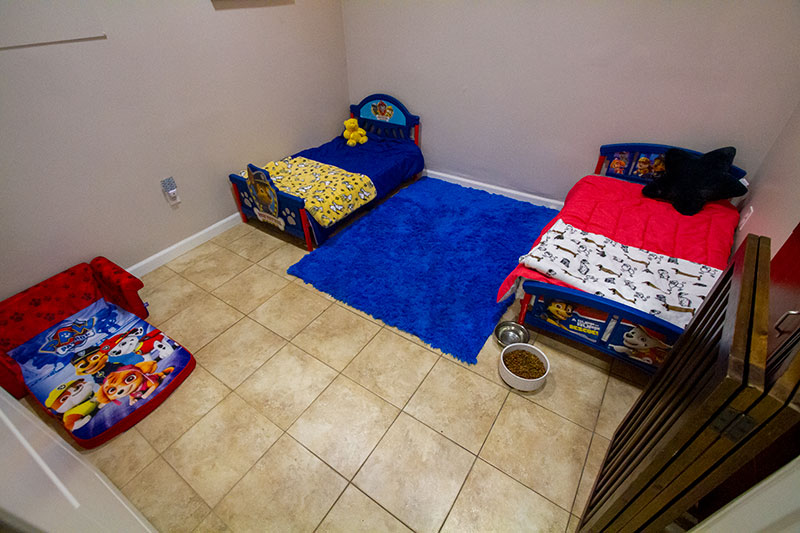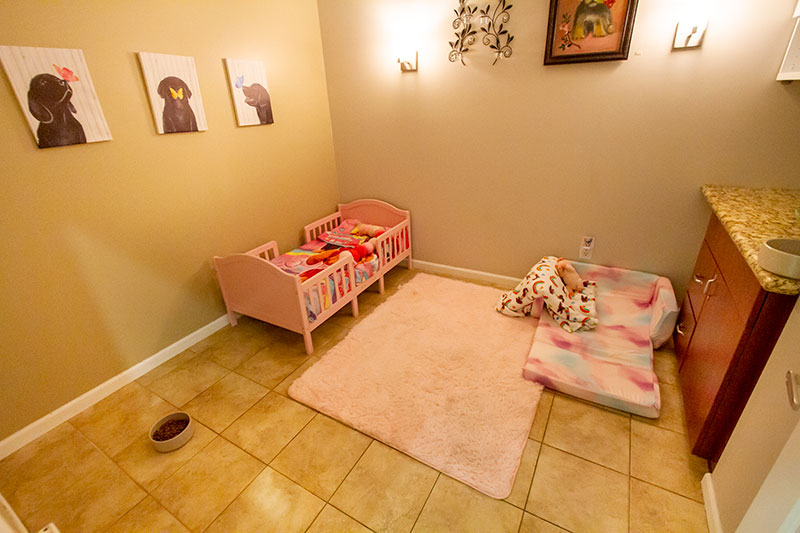 The Dog Slumber Party,
$70/Per Night. A large suite with a social experience for your pup!
The Private Suite
$80/Per Night. A comfortable, clean, 8' by 3.5' place for your dog to rest.
Private Penthouse
$105/Per Night. These fully decorated rooms come fitted with toddler beds and toddler couches. The rooms vary in size, ranging from 9' x 9' to 13' x 7'
Holidays: Additional $10/per night
Extended day discount (Excludes Holiday Weekends):
5 nights, 5% off
10 nights, 10% off
20 nights, 20% off
Each additional dog $10 off total, per night (Excludes Holiday Weekends)
*2 dogs in shared private room, take $10 off per night.
*3 dogs in shared private room, take $20 off per night.
*Multiple dog and long term stay discounts cannot be combined. The larger of the two discounts shall be applied.
Check In Times
Check-in time is 12pm.  Early check-in will be an additional daycare charge-either hourly or half day charge depending on how early.
Check-out time is 12pm.  Late check out will be an hourly, half day or full day daycare charge depending on checkout time.
Latest checkout is 6pm daily.
Tail Wagging Add-Ons
Elevate their stay
Premium Grooming & Spa
Pamper your pup with a day at the Paw Haven Spa when you choose dog boarding in Valley Glen
Training & Tricks
At Paw Haven, our skilled trainers are available to help lead your furry companion
The Doggie Lift
Looking for transportation? Our pup shuttle is at your service throughout the Valley Glen area
Snack Time
At Paw Haven, we delight pups with tasty snacks that pet parents approve of!
Puppy Report Cards
Choose dog boarding in Valley Glen and stay informed about every aspect of their visit with our customized updates!
One-On-One Play
Our team offers personalized playtime to gently introduce your pet to new surroundings.
Let's Go For a Walk
While we might overlook leg day, we won't neglect giving your dog an hearty stroll in the neighborhood.
Birthday Celebrations
Everyone deserves to celebrate their milestones, so why shouldn't this be applied to man's best friend? You can count on us for birthdays!
Dog Safe Desserts
Our delicious owner-approved treats & sweets are sure to brighten up their stay!
Medicine Administration
Trust in our attentive team to carefully manage any medications your dog requires while they're with us.
Zenful Environment
Recognizing the importance of rest for all, we provide serene surround sound and white noise devices to lull your pup into a peaceful slumber.
If you've been scouring the internet for an ideal "Dog Hotel" or "Local Dog Boarding" in Valley Glen, look no further! Paw Haven is here to provide your furbaby with an unparalleled boarding experience.
For more insights into our services, don't hesitate to get in touch. We assure you, we're friendly – all bark and no bite!
Crafting the Perfect Haven for Dogs
What Owners Should Know About Us:
Even without cages, our spacious facility is constantly supervised and tended to by our devoted team.
We recommend a walkthrough of our establishment before you decide on your dog's accommodations, helping you choose the perfect package and extras!
We recommend a full day of doggie daycare for a smooth and stress-free transition into their overnight stay with us.
If you're arranging a prolonged stay, consider a exit bath, so your furry friend comes home feeling clean and rejuvenated!
Our facility is stocked with snug blankets and plush sofas, eliminating the need for extra belongings or toys. But if your dog needs medication, let us know in advance so we can make the necessary preparations.
Please provide enough of your dog's usual food for their stay to keep their diet consistent and prevent any digestive upset.
Planning to board over the holidy season? Book early and reserve your pet's place for the holidays at Paw Haven's dog boarding in Valley Glen!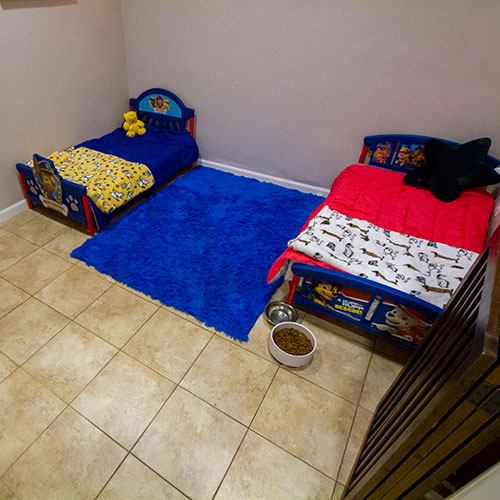 Boarding
From our premier facility to our experienced and highly-trained staff, we work hard to ensure that your dog's overnight stay is excellent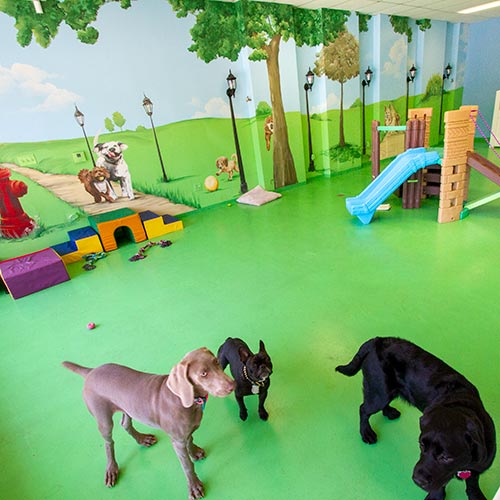 Daycare
Instead of worrying about where their owners are, your dog can enjoy playing, getting cuddles, and lots of attention from our expert dog daycare team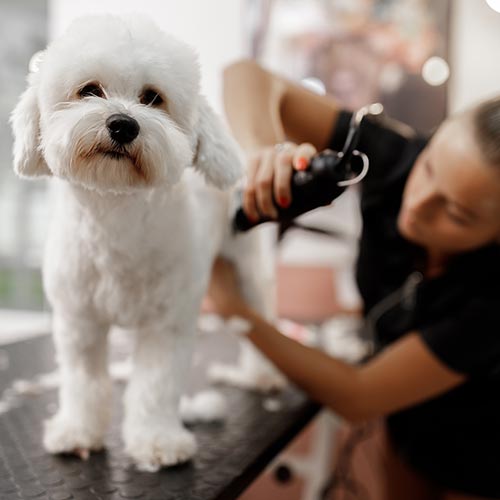 Grooming
We use only the finest dog-safe all-natural shampoos, dyes, and conditioners here at Paw Haven
Hear From Our Pet Parents
Get in Touch
(747) 250-9354