Dog Boarding in Sherman Oaks
A premier dog boarding and pet daycare in Sherman Oaks, CA where pets love to stay and play
Paw Haven Welcomes You
Are you looking for reliable dog boarding locations or kennels around the Sherman Oaks area? Look no further than Paw Haven, your best friend's next stay. It can be quite difficult to leave behind your beloved fur baby, so it's important to know exactly where they are staying while you're away. Leave it to Paw Haven dog hotel in Sherman Oaks to pamper your pup and ensure they aren't cooped up like typical kennels.
Equipped with a full daycare experience, spa services, and a compassionate staff, you won't think twice about your decision to board with us. Plus, you'll be able to see exactly what your doggo is up to with our live stream available during business hours.
With various packages and add-ons to select from, we work tirelessly to ensure your pup has the most pleasurable experience during their stay in Sherman Oaks! Our highly trained staff of fellow dog-lovers tend to every dog's individual needs, making certain your stay at Paw Haven is nothing short of extraordinary.
Top Quality Dog Boarding Located in Sherman Oaks
Unlike stuffy kennels, we won't keep your furry friend locked away all day. Our dog boarding in Sherman Oaks guarantees they'll be free to roam and play under supervision in a secure, yet engaging environment.
Our play areas promote fun and safety with epoxy flooring, epoxy is soft on the paws vs concrete, and it protects delicate joints. Also, our facility regulates comfortable temperatures with soothing music playing throughout the area.
Furthermore, we are equipped with a high-tech medical-grade air filtration system, the likes of what you would see at a human hospital. So, when you are looking for the perfect place for your pet to stay in Sherman Oaks, we've got your back while dog boarding in Sherman Oaks.
Select from the Best Boarding Packages
We offer three unique overnight boarding experiences to choose from here at Paw Haven in Sherman Oaks.
Call us to learn more or book your dog's next stay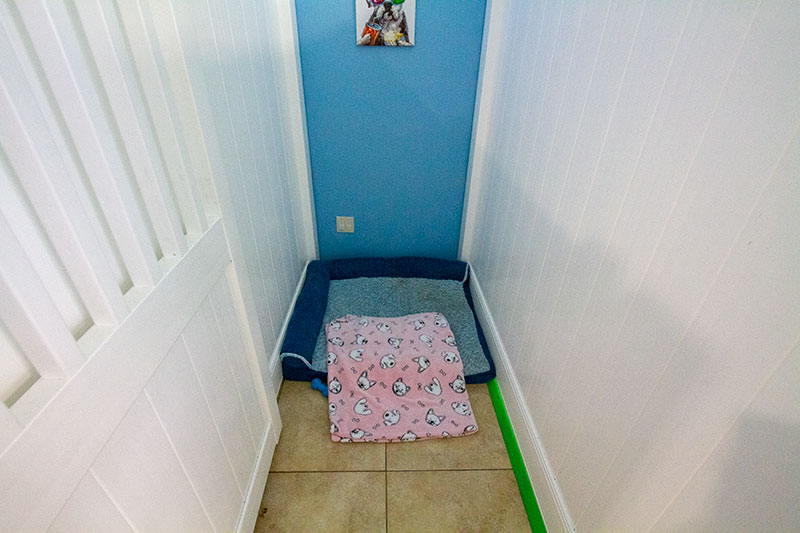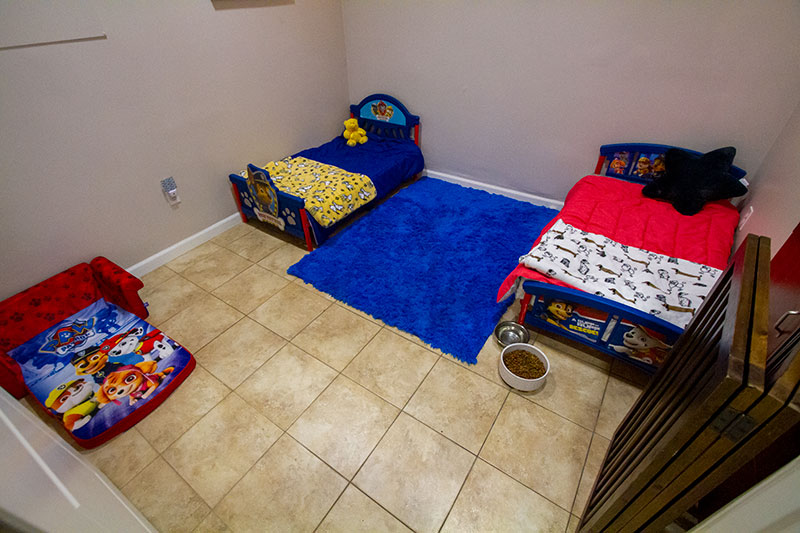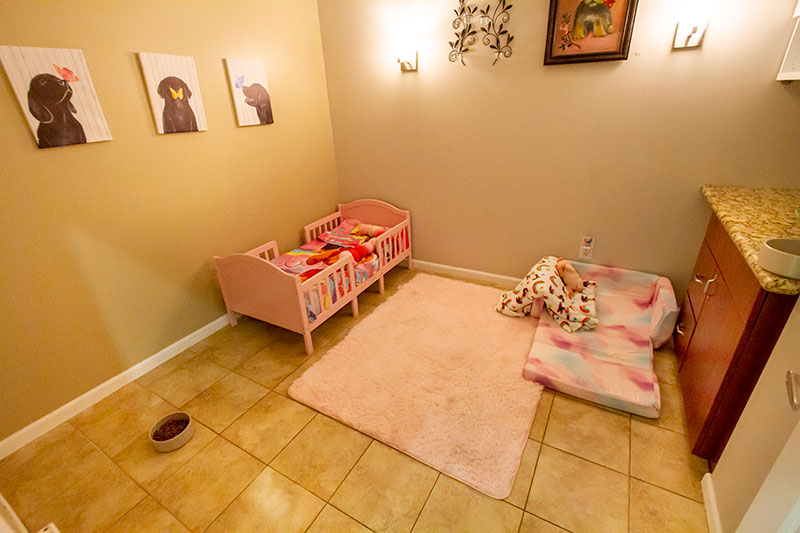 The Dog Slumber Party,
$70/Per Night. A large suite with a social experience for your pup!
The Private Suite
$80/Per Night. A comfortable, clean, 8' by 3.5' place for your dog to rest.
Private Penthouse
$105/Per Night. These fully decorated rooms come fitted with toddler beds and toddler couches. The rooms vary in size, ranging from 9' x 9' to 13' x 7'
Holidays: Additional $10/per night
Extended day discount (Excludes Holiday Weekends):
5 nights, 5% off
10 nights, 10% off
20 nights, 20% off
Each additional dog $10 off total, per night (Excludes Holiday Weekends)
*2 dogs in shared private room, take $10 off per night.
*3 dogs in shared private room, take $20 off per night.
*Multiple dog and long term stay discounts cannot be combined. The larger of the two discounts shall be applied.
Check In Times
Check-in time is 12pm.  Early check-in will be an additional daycare charge-either hourly or half day charge depending on how early.
Check-out time is 12pm.  Late check out will be an hourly, half day or full day daycare charge depending on checkout time.
Latest checkout is 6pm daily.
Spa and Grooming Services
Before your pooch walks out the door, allow us to make them look fesh and sparkling clean after boarding with us in Sherman Oaks!
Train, Play, Repeat
Need assistance training man's best friend? Or maybe good ol' reliable wants to learn some new tricks? We can lend a hand when you choose us for dog boarding in Sherman Oaks
Uber for Dogs
Are you having car trouble? Or maybe your pup just needs a ride to us? Our available shuttle services can pick-up and drop off around the Sherman Oaks area
Every Good Dog Deserves Treats
We all deserve to treat ourselves, so why can't that apply to your right-hand man? Bring some joy into your pal's day with our owner-approved tasty snacks!
Keep Up with Your Pup
Our dog boarding in Sherman Oaks keeps owners up-to-date with everything your buddy is up to with detailed report cards
One-On-One Playtime
If your furry friend struggles to adjust to new environments, we can provide one-on-one playtime with our staff to help them warm up
Walks? Count Me In!
Even if you miss leg day, we make sure your partner doesn't with an enriching walk right here in Sherman Oaks
Birthday Parties
Is it that time of the year already? Allow us to help plan the perfect celebration to accompany this milestone while dog boarding in Sherman Oaks
Delicious Doggie Desserts
Without a doubt, our nutritious, yet scrumptious dog-safe treats are the perfect pick-me-up for your pup!
Administering Medicine
We are fully capable of administering medication if your dog needs it while you're away, just let us know and we'll take care of it
Get Ready for Bed
Start off your best friend's nighttime routine with calming music and our ambient noise machines to get the sweet dreams going while dog boarding in Sherman Oaks
If you've been searching for a Dog Daycare or Dog boarding location Near me in the Sherman Oaks area, you've found the right one!
To learn more or schedule a visit, please contact us. We promise we don't bite!
What Owners Should Know About Us
Our cage-free overnight dog boarding experience in Sherman Oaks promotes a fun and safe place for your pup while you are away, so no need to worry when your dog is in our diligent paws.
With our wide variety of boarding packages and add-ons, let us help you refine your selection to what's best for your pup with an in-depth tour of our facility before your dog's first overnight visit. We also recommend a full day of daycare to allow adequate time for your dog to adjust and transition into a stress-free nighttime routine.
If your pup is spending multiple nights we recommend adding an exit bath . Then your doggy will smell and look fresh and clean to greet you!
Please be sure to supply us with enough dog food to last the entire duration of the stay. We highly suggest packing foods that your dog eats regularly, for a sudden change in diet may result in an upset stomach and we don't want to cause you concern.
Be aware that rooms book quickly around major holidays. To secure a spot at our elite kennel in Sherman Oaks, plan accordingly and give us a call ahead of time.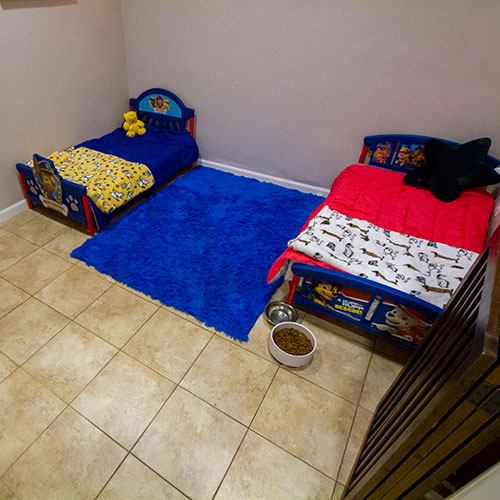 Boarding
From our premier facility to our experienced and highly-trained staff, we work hard to ensure that your dog's overnight stay is excellent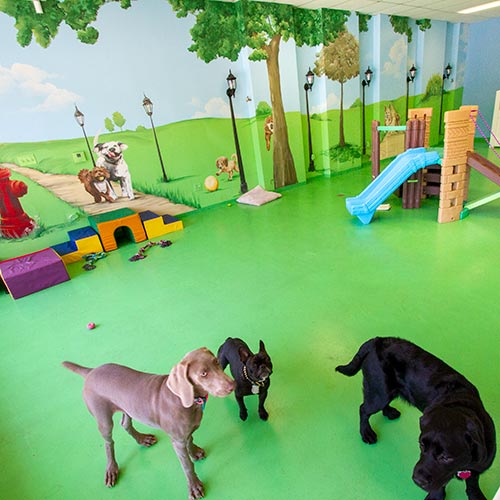 Daycare
Instead of worrying about where their owners are, your dog can enjoy playing, getting cuddles, and lots of attention from our expert dog daycare team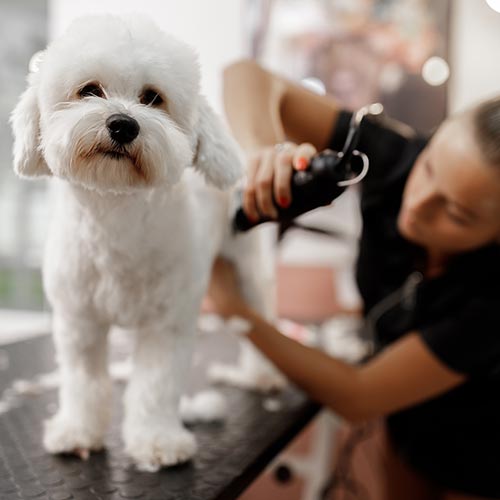 Grooming
We use only the finest dog-safe all-natural shampoos, dyes, and conditioners here at Paw Haven
Hear From Our Pet Parents
Get in Touch
(747) 250-9354