Dog Boarding in Reseda
Your #1 dog boarding and pet daycare in Reseda, CA where we put the fun back in kennel. Travel with peace of mind! Reserve dog boarding in Reseda now and give your pup a comfortable, safe stay. Contact us today.
Welcome to Paw Haven
Searching for dependable dog boarding facilities or kennels in the Reseda area? Your search ends at Paw Haven, the ultimate retreat for your canine companion. We recognize the weight of the decision when leaving your furbaby. It's even more important to know exactly where they are staying. At Paw Haven, we go beyond the typical kennel experience to offer your dog an indulgent stay.
With our daycare comes all the embellishments you can think of and more! You won't doubt your choice to entrust us with your pet when you meet our dedicated team of dog lovers. Plus, for added peace of mind, our live stream lets you peek into your pup's day during our operating hours.
With a range of packages and customizable extras at your disposal, we're devoted to delivering a memorable experience when dog boarding in Reseda. Our expertly trained crew caters to each pet's unique needs, ensuring that their time at Paw Haven is truly exceptional.
The Premium Dog Boarding Experience
Instead of confining canines like traditional kennels, we provide an environment where your dog can freely explore and engage. We make dog boarding in Reseda exciting all while fully supervised.
Our play zones emphasize both enjoyment and safety, featuring paw-friendly epoxy flooring. This material not only cushions their paws compared to harsh concrete but also shields their sensitive joints. Adding to the ambiance, our facility maintains a comfortable temperature complemented by calming background tunes.
What's more, our center boasts a cutting-edge medical-grade air filtration system, similar to those in premier human hospitals. So, when seeking the ideal sanctuary for your pet in, rest assured that Paw Haven's dog boarding in Reseda has all the bases covered.
Boarding Packages Tailored to You
We present three distinct overnight boarding options for your selection.
Reach out to us for further details or to reserve your dog's upcoming visit.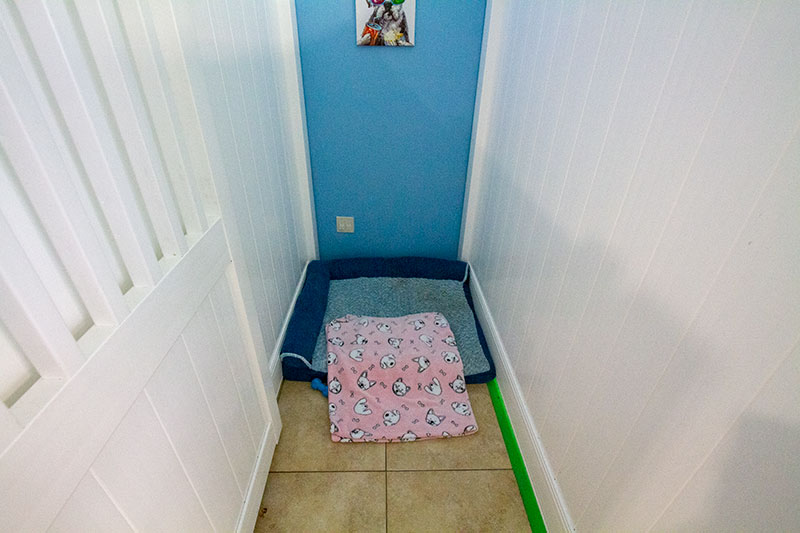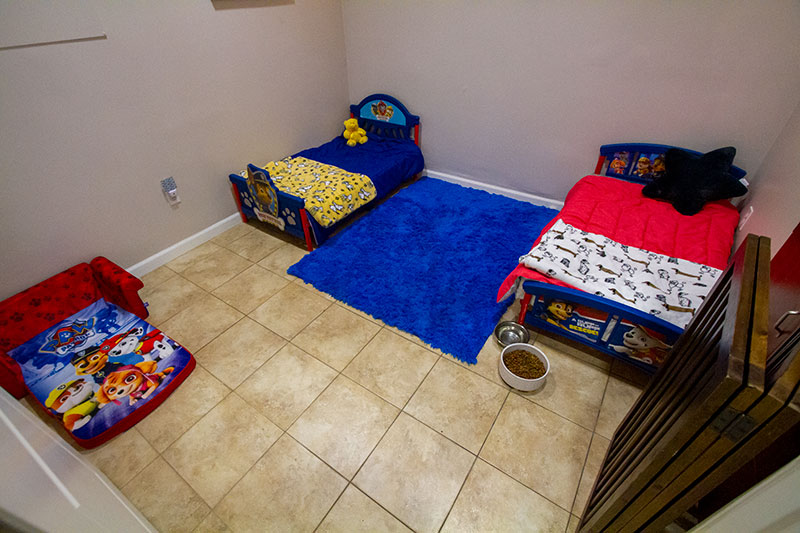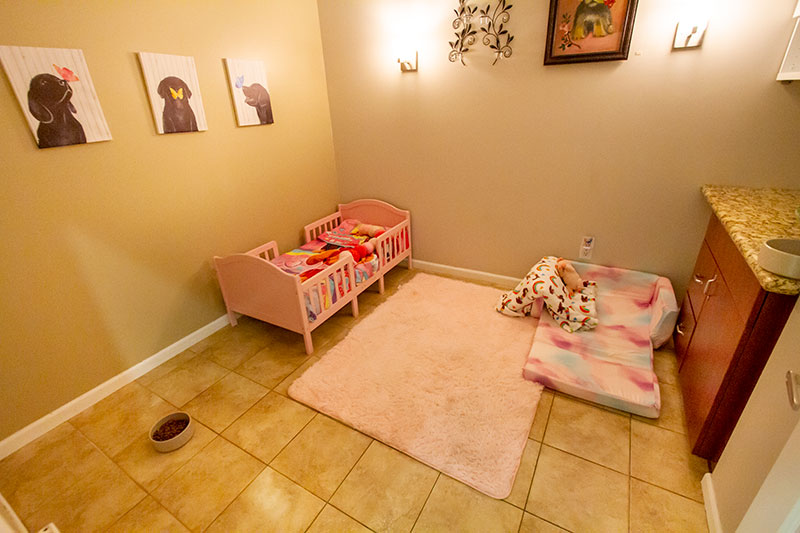 The Dog Slumber Party,
$70/Per Night. A large suite with a social experience for your pup!
The Private Suite
$80/Per Night. A comfortable, clean, 8' by 3.5' place for your dog to rest.
Private Penthouse
$105/Per Night. These fully decorated rooms come fitted with toddler beds and toddler couches. The rooms vary in size, ranging from 9' x 9' to 13' x 7'
Holidays: Additional $10/per night
Extended day discount (Excludes Holiday Weekends):
5 nights, 5% off
10 nights, 10% off
20 nights, 20% off
Each additional dog $10 off total, per night (Excludes Holiday Weekends)
*2 dogs in shared private room, take $10 off per night.
*3 dogs in shared private room, take $20 off per night.
*Multiple dog and long term stay discounts cannot be combined. The larger of the two discounts shall be applied.
Check In Times
Check-in time is 12pm.  Early check-in will be an additional daycare charge-either hourly or half day charge depending on how early.
Check-out time is 12pm.  Late check out will be an hourly, half day or full day daycare charge depending on checkout time.
Latest checkout is 6pm daily.
Deluxe Spa & Grooming
Before their stay comes to an end, let us ensure they look refreshed and sparkling clean!
Work Hard, Play Hard
Seeking guidance in training your pup? Or perhaps your old bud is ready to learn some new tricks? Let us lend a paw
Need a Lift?
Does your doggo need transportation to our facility? Our shuttle services are at your service for pick-ups and drop-offs in the Reseda area
Tasty Treats
Everyone deserves a treat, including man's best friend. Elevate their day with our owner-approved snacks!
Catch Up With Your Pup
Per request, we provide owners with daily report cards, ensuring you're informed about all your canine companion's activities
Warm Up Pup
Should your dog find it challenging to acclimate to new places, we offer individual play sessions with our team to help
Enriching Walks
While you might skip leg day occasionally, we ensure your furry companion doesn't by providing stimulating walks in the area
Birthday Celebrations
Has another year flown by? Let us assist in crafting the ideal celebration for your pet's milestone during their stay
Dog-Safe Desserts
Undoubtedly, our wholesome and delectable dog-friendly treats are the ideal tail-wagging boost they need!
Administration of Medicine
Should your dog require medication during their stay, rest assured we are well-equipped to handle it. Simply inform us, and we'll manage the rest.
Winding Down
Start off your best friend's nighttime routine with calming music and our ambient noise machines to get the sweet dreams going
If you've been on the hunt for 'Dog Daycare' or 'Dog Boarding Near Me' in Reseda, your search ends here!
For more information or to plan a visit, reach out to us. And don't worry, we're friendly and don't bite!
What To Know About Paw Haven
Our open-space overnight dog boarding in Reseda offers a secure and enjoyable environment for your pup while you're away. Rest easy knowing your canine is in our capable and caring hands.
Dive into our array of boarding options, and let a facility tour guide your choice before your dog's first night. We also advise a full day of daycare for a seamless transition into their evening rest.
For extended stays, consider an exit bath for your pup. This ensures they're fresh and groomed when you reunite!
We ask owners to provide enough dog food for the entirety of the stay. We recommend bringing their usual meals, as unexpected dietary shifts can lead to unwanted digestive issues.
Please note that spaces fill up quickly during the Holiday seasons. To guarantee a spot, we recommend scheduling in advance.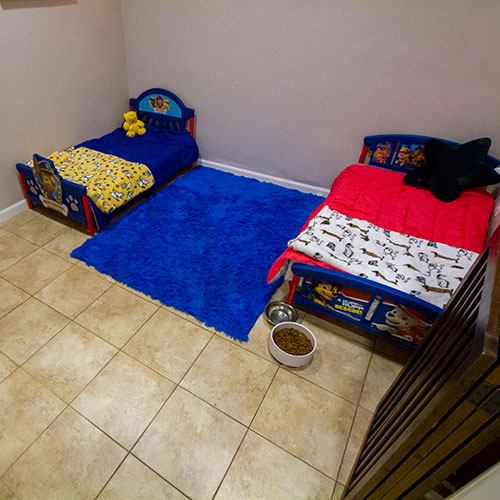 Boarding
From our premier facility to our experienced and highly-trained staff, we work hard to ensure that your dog's overnight stay is excellent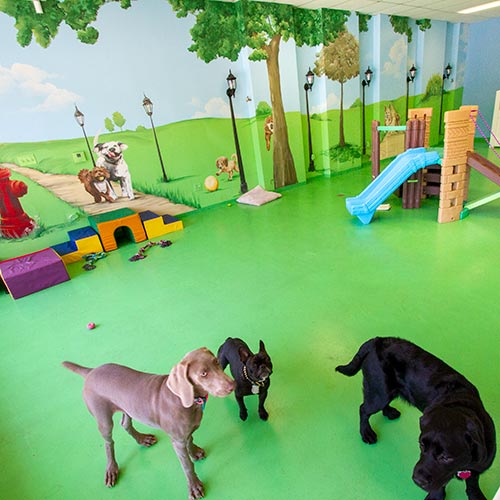 Daycare
Instead of worrying about where their owners are, your dog can enjoy playing, getting cuddles, and lots of attention from our expert dog daycare team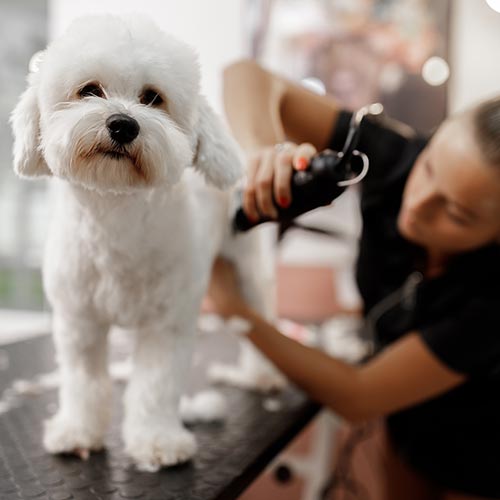 Grooming
We use only the finest dog-safe all-natural shampoos, dyes, and conditioners here at Paw Haven
Hear From Our Pet Parents
Get in Touch
(747) 250-9354