Dog Boarding in Northridge
The premier dog boarding and daycare in Northridge. We provide an array of services tailored for you and your furry friend. We understand that your furry friend deserves the best care and attention, even when you can't be there. Our premier dog boarding services in Northridge offer a safe, comfortable, and fun-filled environment for your beloved canine companion.
We Make Dog Boarding a Paw Filled Haven
Does your browser search history look like "Kennels in Northridge" or "Dog Boarding in Northridge"? If that hits close to home, your quest ends at Paw Haven — more aptly put, a canine paradise. Equipped with a top-tier hotel, a luxurious spa, and a loving team, we're confident in providing an unparalleled boarding experience for your four-legged pal.
Dog Boarding Has Been Made Easier Than Ever
As fellow dog lovers, we understand the heartache when it's time to part with your furry friend. Whether it's a business matter or that much-needed vacation, we've got you covered. Our establishment is 100% cage-free and 100% supervised, guaranteeing fun and security for your pup. Bid farewell to those stuffy, old-school kennels!
Our play zones are equipped with epoxy flooring enhanced with beading for grip—gentler on paws and safeguarding those tender joints compared to concrete. Our robust air purification tech is on par with what you'd spot in human hospitals! Above all, our dedicated crew works tirelessly to make Paw Haven the #1 choice for your pet's next delightful visit.
Choose the Package That's Right For You
At Paw Haven, we've lined up three sleepover options for when you choose dog boarding in Northridge.
Reach out to learn more or to schedule your furry friend's next stay!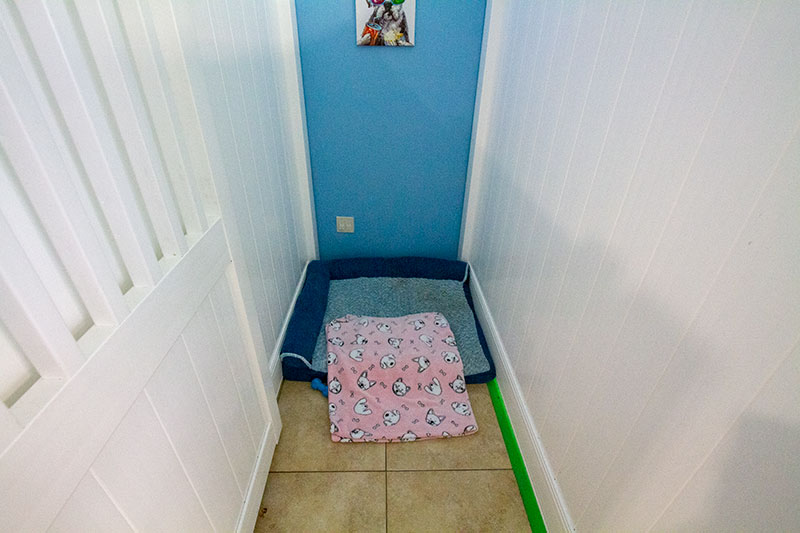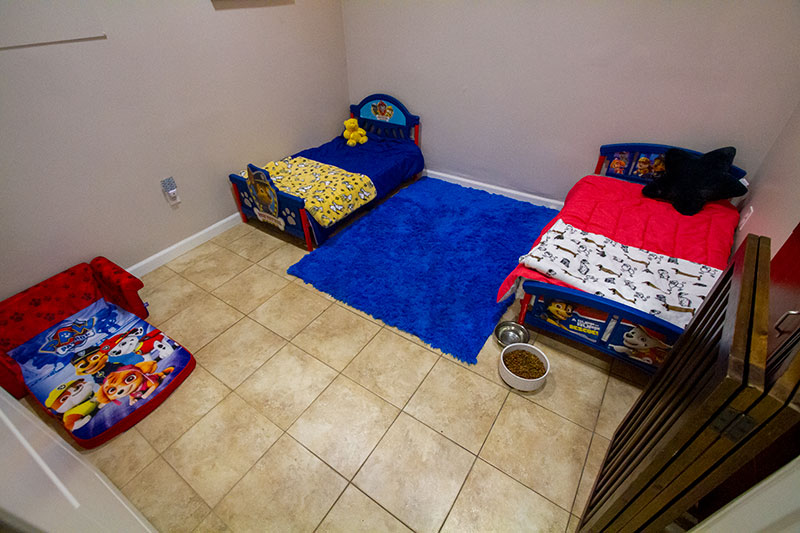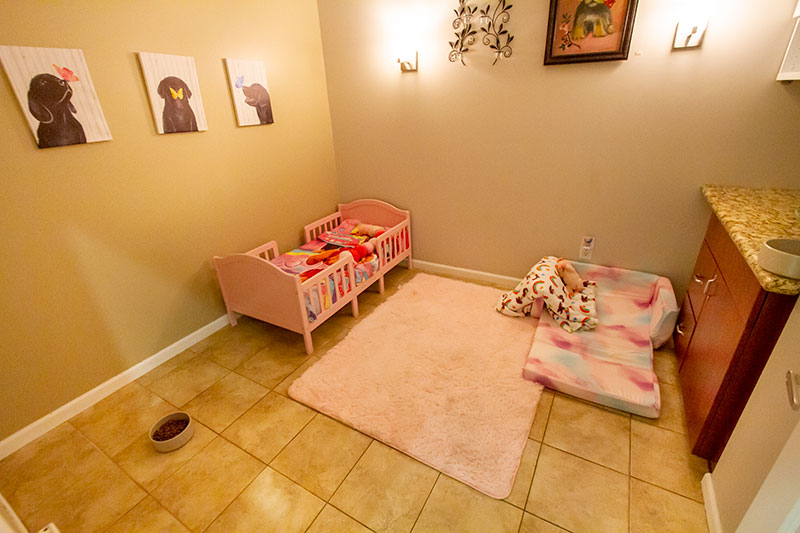 The Dog Slumber Party,
$70/Per Night. A large suite with a social experience for your pup!
The Private Suite
$80/Per Night. A comfortable, clean, 8' by 3.5' place for your dog to rest.
Private Penthouse
$105/Per Night. These fully decorated rooms come fitted with toddler beds and toddler couches. The rooms vary in size, ranging from 9' x 9' to 13' x 7'
Holidays: Additional $10/per night
Extended day discount (Excludes Holiday Weekends):
5 nights, 5% off
10 nights, 10% off
20 nights, 20% off
Each additional dog $10 off total, per night (Excludes Holiday Weekends)
*2 dogs in shared private room, take $10 off per night.
*3 dogs in shared private room, take $20 off per night.
*Multiple dog and long term stay discounts cannot be combined. The larger of the two discounts shall be applied.
Check In Times
Check-in time is 12pm.  Early check-in will be an additional daycare charge-either hourly or half day charge depending on how early.
Check-out time is 12pm.  Late check out will be an hourly, half day or full day daycare charge depending on checkout time.
Latest checkout is 6pm daily.
Add-ons to Elevate Their Stay
Pampering Pooches Done Right
Premium Spa & Bath
Want your doggo to return home fresh and shiny? Consider booking a session at our doggie spa for a departure bath as their stay comes to an end!
In-House Training
Our trainers are eager to assist if your furry friend needs some guidance. Just give us a heads up, and they'll have your pup trained enough to almost hit the supermarket for you!
Need a Lift?
Does your pup need transportation? We provide shuttle services for both pick-up and drop-off to our facility in the Northridge area.
Puppy Snacks
Allow your pup to indulge in scrumptious owner-sanctioned snacks, ensuring those tails keep swishing in happiness!
Tailored Report Cards
While boarding in Northridge, pet parents can stay informed about their dog's activities through our tailored report cards, available upon request.
Quality Play-Time
If your furry friend finds new environments challenging, consider booking one-on-one play sessions with our team. This will help your bud ease in.
Time For a Stroll
While we might dodge a workout, our loyal companions shouldn't miss out. Let us treat your pup to a revitalizing stroll around the Northridge vicinity during their visit.
Commence the Festivities
Is it that special season again? Join us in marking the occasion with festive birthday celebrations we proudly host!
Dog-Safe Desserts
Everyone deserves a little indulgence, right? Since your canine buddy is on a break, why not let them savor the moment with our pet-friendly treats?
Professional Medicine Administration
Should your dog require medication, please inform us prior to your stay. This way, our skilled team can ensure they receive their doses carefully during your absence.
Create the Perfect Night
To create a smooth transition for your pup's night stay, we utilize our ambient sound machines and soothing music, ensuring they drift into serene slumbers while dog boarding in Northridge.
On the hunt for Dog Daycare or Dog Boarding in Northridge? Look no further and give us a ring today!
What Owners Should Know About Paw Haven
The Paw Haven team is committed to ensuring your pup has an ideal overnight experience in our supervised, cage-free environment, delivering top-tier dog boarding in Northridge.
Before scheduling your furry friend's first visit, we suggest exploring our campus firsthand. This way, we can collaboratively identify the most fitting boarding package and experience for your dog. Moreover, we advise spending a day at our daycare before the overnight portion of the visit.
Opting for The Dog Slumber party boarding package? We suggest scheduling an exit bath before pick-up, ensuring your pup returns home with that fresh, puppy-like sparkle!
Leave those extra toys and items at home, as we've got comfy beds and blankets ready for your pup here in Northridge. However, please ensure you provide sufficient food for the duration of their stay. It's crucial to stick to their daily diet to avoid any digestive surprises; after all, we aim for their happiness throughout the entire visit
For holiday bookings, kindly plan in advance and call us to reserve a spot at Paw Haven. Our slots tend to fill rapidly during busy seasons.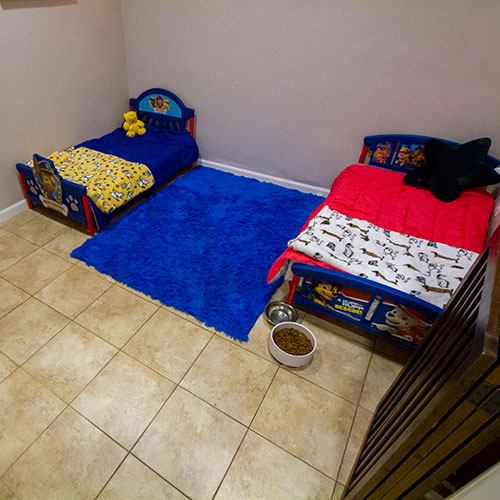 Boarding
From our premier facility to our experienced and highly-trained staff, we work hard to ensure that your dog's overnight stay is excellent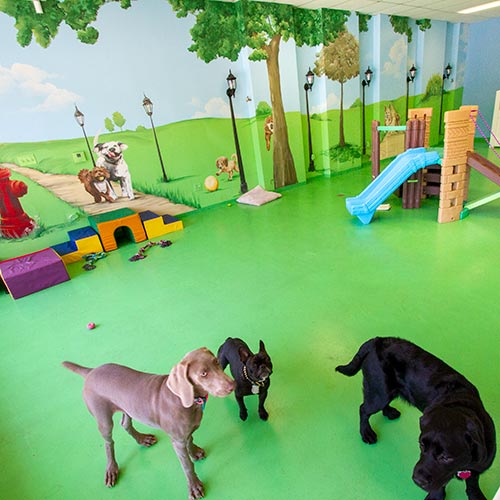 Daycare
Instead of worrying about where their owners are, your dog can enjoy playing, getting cuddles, and lots of attention from our expert dog daycare team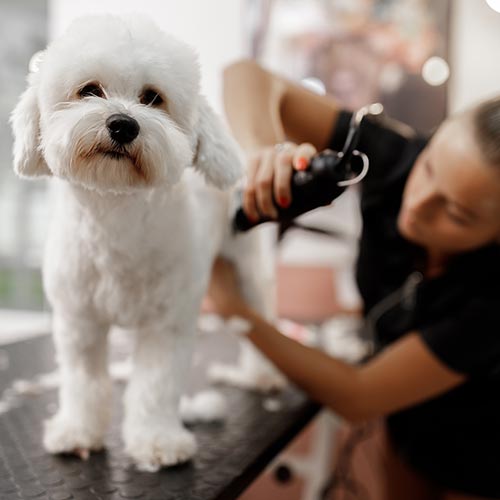 Grooming
We use only the finest dog-safe all-natural shampoos, dyes, and conditioners here at Paw Haven
Hear From Our Pet Parents
Get in Touch
(747) 250-9354