Dog Boarding in Lake Balboa
 When life takes you away from home, give your furry companion a vacation of their own at Paw Heaven Hotel. Our dedicated team understands that your dog is more than a pet – they're a cherished member of your family. That's why we go above and beyond to provide exceptional care and comfort during their stay. A top-tier dog boarding facility in Lake Balboa where pets delight in staying and playing.
Introducing Your Next Best Stay 
Is your browser filled with searches like "Dog Boarding in Lake Balboa" or "Local Kennels Near Me"? Well, you can put an end to that quest by choosing Paw Haven Hotel for your pup's ultimate getaway. Boasting a state-of-the-art doggie hotel, pampering spa services, and a team that's crazy about canines, we promise your dog's stay in Lake Balboa will be tail-waggingly delightful.
At Paw Haven, we've curated a diverse range of boarding packages and extra treats to make your fur baby's stay an unforgettable one. Plus, our dedicated team members are committed to ensuring every pet's needs are met above and being during their stay.
Cage-Free, Not Fun-Free
We love dogs too, so we feel that tug at the heartstrings when it's time to say a brief goodbye. But when you opt for dog boarding in Lake Balboa, rest easy on your holiday or work trip, knowing that Paw Haven is truly a paw heaven for your four-legged friend.
Our team doesn't just ensure your dog's security, but with our supervised play zones made of cushy epoxy flooring, we ensure your furry pal can play while keeping paws and joints protected!
Plus, our no-cage approach lets your dog stretch, explore, and mingle, unlike those tight kennels that pen in our furbabies. And to top it all? Our medical-grade air purifiers paired with calming music ensure the ambiance at Paw Haven remains unbeatable!
Choose Your Boarding Package 
At Paw Haven, we present three boarding experiences for your selection.
Ring us up to get the scoop on reserving your pup's upcoming stay in Lake Balboa!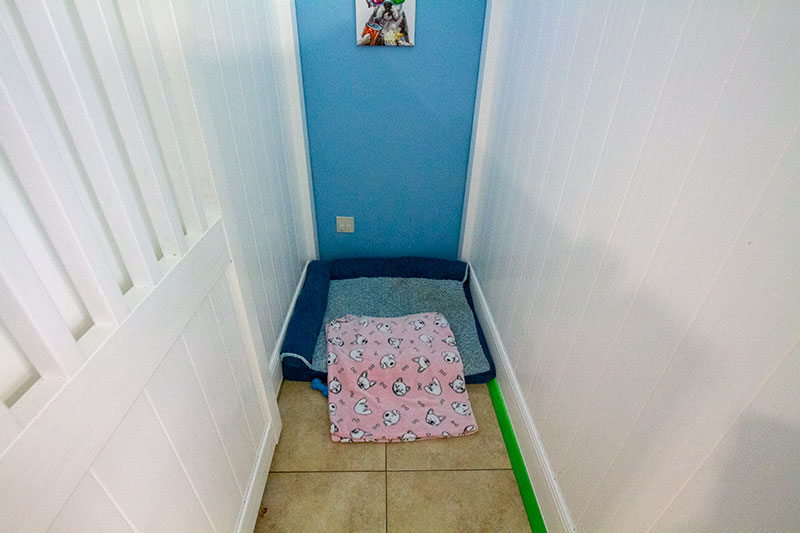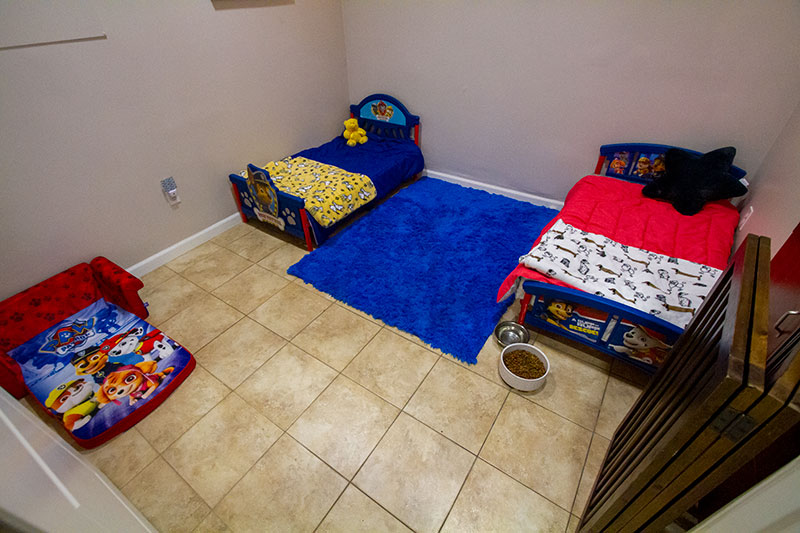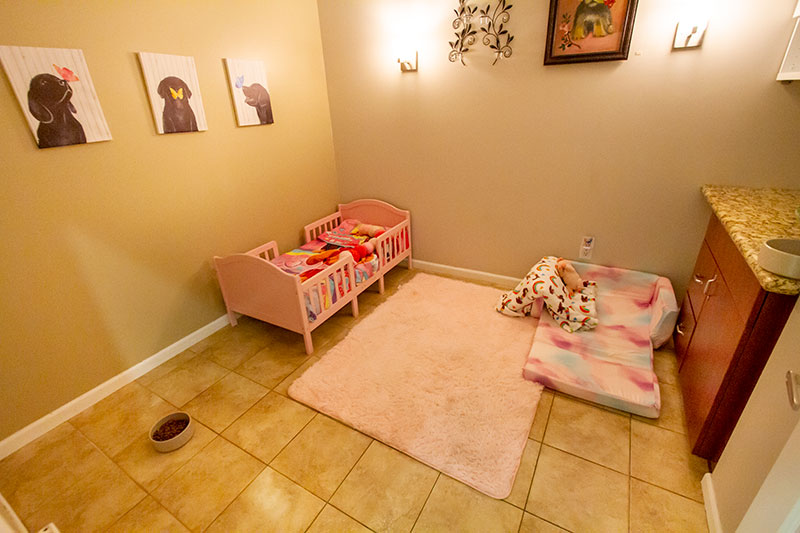 The Dog Slumber Party,
$70/Per Night. A large suite with a social experience for your pup!
The Private Suite
$80/Per Night. A comfortable, clean, 8' by 3.5' place for your dog to rest.
Private Penthouse
$105/Per Night. These fully decorated rooms come fitted with toddler beds and toddler couches. The rooms vary in size, ranging from 9' x 9' to 13' x 7'
Holidays: Additional $10/per night
Extended day discount (Excludes Holiday Weekends):
5 nights, 5% off
10 nights, 10% off
20 nights, 20% off
Each additional dog $10 off total, per night (Excludes Holiday Weekends)
*2 dogs in shared private room, take $10 off per night.
*3 dogs in shared private room, take $20 off per night.
*Multiple dog and long term stay discounts cannot be combined. The larger of the two discounts shall be applied.
Check In Times
Check-in time is 12pm.  Early check-in will be an additional daycare charge-either hourly or half day charge depending on how early.
Check-out time is 12pm.  Late check out will be an hourly, half day or full day daycare charge depending on checkout time.
Latest checkout is 6pm daily.
Tail-Wagging Add Ons
A happy life includes a more than happy dog
Pawsome Spa Services
Pampering your furbaby is our specialty!
Where Work Meets Play
At Paw Haven, our skilled instructors stand ready to lend a paw to train your furry companion.
The Puppy Shuttle
Paw Haven's Puppy Shuttle is the perfect solution for your furry companion's transportation needs. 
Owner-Approved Snacks
Mmmm! Keep those wagging tails happy at Paw Haven with delightful owner-approved treats!
Puppy Reports Now Available
When you choose dog boarding in Lake Balboa, stay informed about every aspect of their visit with our customizable reports!
Quality Playtime
We offer personalized playtime sessions to help your furry friend adapt to new surroundings where your pup can truly be themselves.
Enriching Walks
Step outside and let us lead the way as we take your beloved companion on a delightful stroll around the Lake Balboa Area
Birthday Parties
Celebrate your partner's special day with Paw Haven, we wouldn't miss it for the world!
Delicious Doggie Desserts
Looking for tasty treats for your furry friend? Check out Paw Haven! We offer a range of dog-friendly desserts.
Pet Medication Administration
Our certified professionals ensure quality care, delivering any prescribed treatment your dog needs diligently
Promoting Peace With Sleep
We understand the importance of peaceful sleep. Our in-house white noise machines create a soothing atmosphere for your pup, helping with calming music and surround sound. 
Been on a digital hunt for the ideal "Dog Hotel" or "Closest Dog Boarding" in the Lake Balboa vicinity? Let us fetch that for you! Our goal is to craft the perfect boarding experience. Ready for your next best stay? Just give us a call!
To learn more about our facility, we encourage you to get in touch. We don't bite!
We Rewrite The Rules of Dog Boarding
What Owners Should Know About Us:
At Paw Haven, our cage-free dog boarding is vigilantly overseen and tended to by our wholly committed team.
Before reserving for your pup, we recommend a tour of our facility to help choose the best package and extras!
Moreover, we suggest a full day of doggie daycare for an effortless and relaxed shift into their night with us. How about a departure bath to spoil your pup as their visit wraps up? 
Opting for a lengthy overnight stay? We recommend an exit bath, ensuring your furry friend heads home fresh and clean!
We've got blankets and plenty of snug sofas on hand, so no need for extra belongings or toys. But, if your four-legged buddy has medications, let us know in advance so we can assist you.
Please provide enough dog food for the entire visit. Ensure it's their usual meal to prevent any dietary changes that might upset their stomach.
If you're considering boarding during peak holidays, plan ahead since we fill up fast. Reach out and guarantee a place for your pup when you choose Paw Haven's dog boarding in Lake Balboa!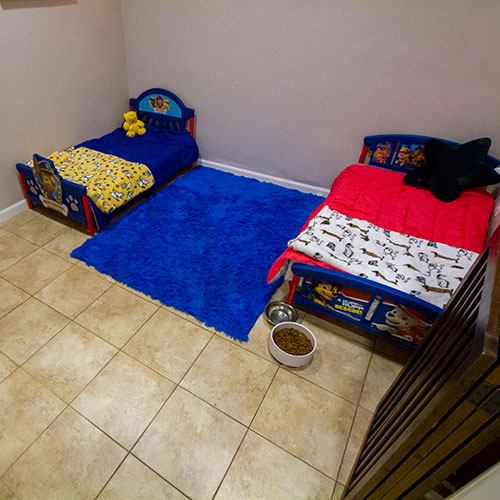 Boarding
From our premier facility to our experienced and highly-trained staff, we work hard to ensure that your dog's overnight stay is excellent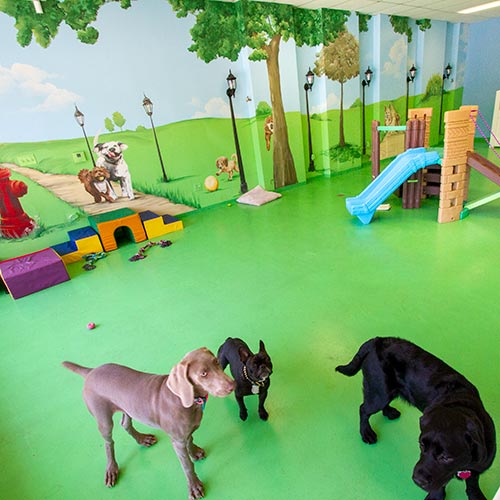 Daycare
Instead of worrying about where their owners are, your dog can enjoy playing, getting cuddles, and lots of attention from our expert dog daycare team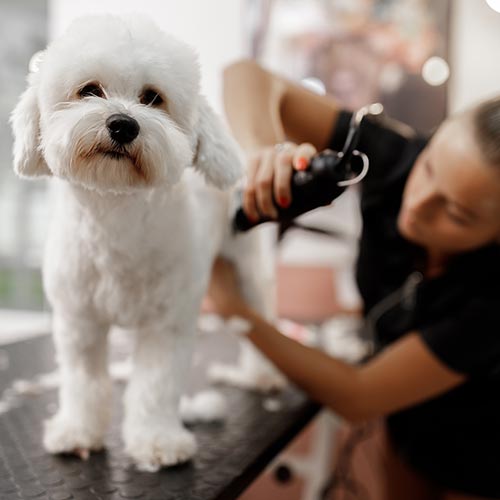 Grooming
We use only the finest dog-safe all-natural shampoos, dyes, and conditioners here at Paw Haven
Hear From Our Pet Parents
Get in Touch
(747) 250-9354